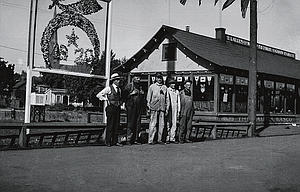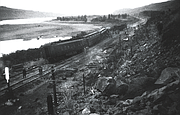 20 years ago – 1997
A media preview of the Columbia Gorge Discovery Center and Wasco County Historical Museum on Tuesday offered an advance look at the facility, which holds its grand opening this Saturday.
Add a wall here, remove a wall there, and voila!, the PUD building will become the domain, by fall 1998, of the city police. The Dalles Police Chief Jay Waterbury estimated fewer than half the office walls in the PUD building would be altered under preliminary redesign plans.
Mark Kenneth Johnson, 28, was indicted early this month on murder and arson charges in the death of his mother. He also faces two counts of first degree arson.
40 years ago – 1977
Effective Monday lawn and garden irrigation hours in The Dalles will be 6 a.m. to 9:30 a.m., and 6:00 p.m. to 9:30 p.m. Penalties from $5 to $25 will be enforced on violations and increased surveillance of watering is scheduled. Since February the city has been on summer water restrictions. That means no watering from noon until 6 p.m. and no watering after dark. It also means no open ended hose watering, no watering of parking strips (grass between the curb and sidewalk) and no washing of cars except on grassy areas where the water used would benefit the grass.
The Dalles Lions Club blood drawing chairman, Jerry Urness, says Lions will provide 20 pints of blood toward a quota of 150 when the next blood drawing is held Tuesday. He said that 47 per cent of the population is eligible to donate blood, however only three per cent does.
The Carter administration is warning again too much optimism regarding word from Geneva of breakthrough in U.S.-Soviet strategic arms limitations talks.
About 1,500 people gathered at East meadow, N.Y. Friday to watch the reenactment of Charles Lindbergh's historic takeoff for the first transatlantic flight.
60 years ago – 1957
KANSAS CITY, Mo. (UP) – A savage tornado, the worst of the year, roared out of Kansas and into two suburban Kansas City subdivisions Monday night, spreading death and destruction. The twister left at least 35 dead, many of them still unidentified today, and 230 injured.
Out-of-town attendance totaling 225 is indicated in advance registration for the Oregon state convention of Knights of Columbus in The Dalles beginning Friday, J. H. Blissenbach, convention co-chairman with Roman Bertrand, reported this morning.
The annual spring job of placing rock on port dock decking and railroad spur is now being accomplished because of current high water. A chained log boom also has been put into the water around the port facilities to keep driftwood from exerting pressure on the dock and trestle. Columbia river flow at The Dalles is expected to reach 660,000 cubic feet per second today and drop slightly tomorrow.
The Dalles high school has one of the best English departments in the state, Dr. N. H. Oswald, University of Oregon English professor said during a recent visit here.
80 years ago – 1937
At a meeting of the old Fort Dalles Historical society held recently at the Historical building, announcement was made of the winners in the essay contest sponsored by the society. The contest was open to any upper grade school student in Wasco County.
COLUMBIA HEIGHTS, May 21. – Pea growers of this vicinity will begin picking their early varieties early next week, it is reported, although work in the majority of fields will be delayed for approximately another week. Due to the unusually cool spring, the peas are maturing about a month later than usual, according to growers.
ST. JOSEPH, Mo., May 21. (UP) – In full view of a crowd of 3500 that watched an indoor Shrine circus at the auditorium last night, a Sumatran tiger seized and inflicted serious wounds on H. G. Getchell, 81, as he walked by her cage.
100 years ago – 1917
The food survey campaign, which is being conducted in Hood River, Sherman, Gilliam and Morrow counties by the extension department of the Oregon Agricultural college, under the direction of the United States department of agriculture, is progressing rapidly with J. W. Brewer as district agent and H. W. G. Miller as assistant. Owing to the exceedingly heavy rains and the serious railroad accident on the Heppner branch of the O.-W. R. & N. and heavy rains in Gilliam county, returns from districts there are coming in slowly to the officials here. There is a general indication that the farmers realize they are confronted with a food shortage and they are indicating their intention to plant gardens to take care of their own families.
SALEM, Ore., May 121. – Three hundred fifty brand new laws are in effect in Oregon today, thanks to the 1917 session of the state legislature. Measures which did not carry emergency clauses or were not referred to the people went into effect at the stroke of 12 o'clock this morning, or just 90 days after the adjournment of the legislative session.
Berlin Admits Reverse on Western Front: BERLIN, May 21. – The French have succeeded gaining a hold on Mount Cornillet. The British have occupied "completely demolished trenches which were abandoned in accord with our plans," it was officially stated today.
More like this story
Latest stories
Latest video:
Mosier oil train fire
Clips from oil train fire in Mosier, Friday, June 3, 2016. by Mark B. Gibson/The Dalles Chronicle. Enlarge