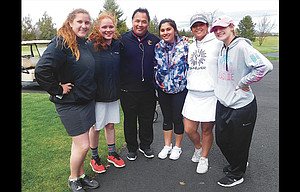 During basketball season, The Dalles senior Iliana Telles sustained a catastrophic ACL injury that cut short the end of that season along with her varsity golf campaign.
The news was painful, but she found a way to give back through coaching —and the results were promising.
Eliana Ortega, Jaeden Biehn, and Lydia Evans displayed tremendous growth this spring, and Lindsi Logue is a player, who could be counted on to give the Lady Hawks four scores for tournament play during the 2018 campaign.
"Although I couldn't play, I helped with coaching and made new friends," Telles said. "They played amazing golf, and they always had a positive attitude."
Last week at Eagle Crest Golf Course in Redmond, Eliana Ortega carded a personal-record of 115 on the first day, and then followed that up with a 127 for a two-day total of 242 to lead the Riverhawks.
Lydia Evans matched her personal records on consecutive days at district, posting 135 on the scorecards, to finish with a 270.
Lefty golfer Jaeden Biehn shot a 153 in her first-career district tournament and shaved seven strokes from her totals on the second day at 146 to wind up shooting a 299.
Newcomer Lindsi Logue did not post an opening-day score, but came back on the second day for a 163 to give The Dalles a final team score of 571.
With her performance in Redmond, Ortega is going to put in a full offseason in preparation for another run at potentially earning medalist honors.
"I really enjoyed playing golf and I'm very excited for next year's season," Ortega said. "I loved that I got to play with such a nice group of girls in my first season. I progressed a lot this year and I hope to drop my score even more next year. Next year, to compete at districts, I need to break a hundred, which I feel I'm close to doing."
Bend High School notched a 718 to hoist tournament gold by 13 strokes over Summit, who shot a 380 on the second day to wind up with a 731.
Pendleton (756), Hermiston (790) and Crater (812) made up the state qualifying team standings.
Olivia Loberg, of Summit, shot a 71-83 for a 154 to defeat Pendleton's Haley Greb (77-80 – 157) by three strokes to pick up a 5A district crown.
Haley Brown, of Crater, carded an 80-89 to end up with a 169 and third place, Josephine Fraser, out of Summit, scored an 85 on the first day and added a 90 to end up fourth with her 175. Bend's Kaylie Hayes, (87-90 – 177) and Pendleton's Megan George (93-84 – 177) rounded out the top 5 individuals.
Looking at those district scores, Telles feels those were attainable, had she been healthy.
At Indian Creek Golf Course for district action in Hood River last May, Telles carded a two-day total of 158 to secure sixth place, and a week later, she had her best 5A state-tournament finish of a second-place tie after carding a two-day mark of 150 at Quail Valley Golf Course.
"After I got injured, the worst news I've ever heard was that I couldn't play until August and that my high school career was over," Telles said. "I had dreams and my goals were to win. I just needed one more medal and I was going to take home first place."
Telles will now focus on getting healthy and further developing her all-around game at Division I Portland State University, where she accepted a scholarship to play golf starting in the 2017-2018 season.
She takes with her many memories and accomplishments, especially growing as a player under her coach and father, Dan.
"I was very honored to play for the school and my dad," Iliana said. "Golf has always been one of my favorites, and for that, it was an amazing experience."
While an hour away in Portland, Telles is still going to check on her teammates to make sure they are doing all the little things possible to carry on a successful TD golf legacy for years to come.
She knows there is something promising brewing.
"If the girls stick to golf, by senior year, I believe that they will qualify for state," Iliana said. "They will start winning tournaments and I'm sure they will be excited about that."
More like this story
Latest stories
Latest video:
Mosier oil train fire
Clips from oil train fire in Mosier, Friday, June 3, 2016. by Mark B. Gibson/The Dalles Chronicle. Enlarge