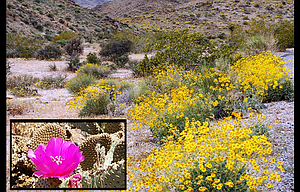 Janet and I drove south hoping to see a once in 20 years Super Bloom of desert flowers. Our first destination was Death Valley, our country's largest national park.
We spent the night at Lone Pine, Calif., and next morning drove to Stove Pipe Wells, then on to Furnace Creek.
Guess what — no flowers. We had not expected to see very many this far north, but not seeing any was a surprise.
We continued south past Badwater Badin, the lowest point in North America.
Our new destination was Jubilee Pass, 25 miles south of Furnace Creek. We probably wouldn't see a Super Bloom there either, but were confident we would see wildflowers.
Badwater Road is a lonely two lane paved highway that snakes its way over and around alluvial fans called bajadas.
You slide past the salt pans and viola: the hills turn gold with millions of desert dandelion flowers.
As we climbed up Jubilee Pass we stopped to take pictures of desert stars, deep purple beavertail cactus blooms and golden brittlebush flowers.

This may not constitute a Super Bloom, but it is good enough for us.
The next day we headed south to Joshua Tree National Park.
This park is unique in the fact that two deserts come together here; the lower elevation and slightly wetter Colorado Desert and the dryer and cooler Mohave Desert.
You know you are in the higher-elevation Mojave Desert when you see Joshua trees.
These strange plants look like they came straight out of a science fiction film.
In fact most of this national park has an otherworldly feeling, with giant rock outcroppings that extreme weather conditions have broken into piles of individual boulders.
At Joshua Tree National Park we came close to seeing a Super Bloom.
There was blue wild heliotrope nestled in fields of desert dandelions.
Even the evilly-thorned teddy-bear chollas were covered with delicate yellow blossoms.
Janet's favorite desert plant is the ocotillo, with each branch ending in a blood red flower.
We have one more desert to prowl before we head home, and that is the famous Sonoran Desert. From a distance this desert looks lush and inviting, but if you look a tad bit closer it can bite back.
It is home to the famous saguaro cactus that grows naturally nowhere else on the planet.
The Sonoran is also home to killer bees, sidewinder rattle snakes, organ pipe cactus and prickly cholla.
As strange as it may seem, I am drawn to this desert, with its hidden flowers and tracks in the sand.
Janet and I had a camera in one hand and a wildflower identification book in the other — you can spend many wonderful hours just looking for the next treasure.
Too many people think there is nothing in these windblown deserts; but to us there is everything.
Just be sure you have a map, water and strong sense of adventure.
More like this story
Latest stories
Latest video:
Mosier oil train fire
Clips from oil train fire in Mosier, Friday, June 3, 2016. by Mark B. Gibson/The Dalles Chronicle. Enlarge