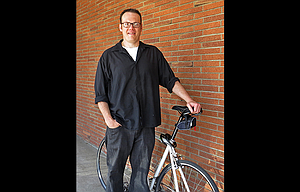 Greg Barnes woke up Monday to learn that he had become a millionaire – five times over.
"It seemed totally fair, I was excited," he said of receiving the phone call from a man claiming to be a representative of Publisher's Clearinghouse.
Barnes ascribes to the old adage that, "If something seems too good to be true, it probably is," so he didn't actually believe he was being gifted with instant wealth. And he certainly wasn't going to send $1,250 of his own money to cover shipping and handling fees for the award, something the caller had asked him to do.
"This is interesting, I love Monday mornings," he said during a call to the Chronicle on May 8.
Barnes decided to play along to see how much information he could glean from the scammer to turn over to authorities.
"He's excited — phish away," said Barnes. "I'm going to waste as much of his time as I can because he asked me not to waste his time." He wanted to learn as much information as possible about the get rich scheme, and then get the word out to prevent other people from falling victim.
Several years ago, one of Barnes' family members had lost $800 to a telephone scam in which the caller identified himself as Barnes and said he had been in an accident in Mexico and needed money for medical treatment.
"He told this relative that his mouth had been injured and that's why he didn't sound quite right," said Barnes.
Like the Publisher's caller, his relative was asked to wire the money – and was unable to recoup the loss.
"The next time I saw her she said, 'You really ought to tell people when you go to Mexico," and I said, "What?" recounted Barnes of that moment.
After telling the caller that he had to ride his bike to the bank to wire the cash, Barnes came up with a couple of excuses to explain why he hadn't done that yet.
"I told him that I rode over a goat's-head and explained what that weed was," he said. "I said that I was trying to fix the tire and then I'd get there."
Barnes called The Dalles Police Department and was directed to report the incident to Oregon Attorney General's consumer protection hotline at 1-877-877-9392.
The Dalles Police Detective Jamie Carrico receives an average of 7 to 10 calls about potential scams per month and encourages people, like Barnes, to call before they send off money that is unlikely to ever be returned.
"Absolutely, call," he said. "We want people to call and say, 'This is the situation we have going on, what do you think?'"
He said it is difficult to track down the perpetrators of these crimes because they use fake names and route calls and emails through a complicated system to cover their tracks — sometimes they are not even in the country, but the local agency has assisted the FBI with investigations.
For example, a local woman connected with a man at an online dating site and they emailed back and forth for a while.
The man ventually told her he was working out of the country and didn't have access to banking services.
He asked if she would deposit a check for him in her account and keep everything but a small stipend in safekeeping until his return. He asked her to send him a cashier's check for several hundred dollars.
The woman sent the money and then learned the check was bogus.
"We contacted the FBI and their analyst traced the origin of the scam to Duluth, Ga., where they were already conducting an investigation," said Carrico.

At Monday's end, Barnes was no wealthier than he had been before the phone call, but he was also no poorer. And that is how he wants it to be for others and why he stepped forward to get the word out.
"The caller finally asked me if I thought this was a game, and hung up on me," said Barnes of how his interaction with the scammer ended.
He said the situation is no game because people with Alzheimer's and other conditions might end up losing their savings.
"I just think people need to know this is going on," he said.
A survey taken last year by Truecaller, a Scandinavian-based firm that generates a global telephone directory, estimates 27 million U.S. consumers lost approximately $7.4 billion in 2015 to phone scams – an average of $274 per victim.
While the scammers may still be targeting victims using 20th century tools, the report notes that mobile phones are increasingly targeted. as opposed to landlines.
About 74 percent of people report the scammer called their cell phone. That's up sharply from 2014, when only 49 percent of the victims were called on a mobile device.
The report reflected that men were twice as likely to report losing money over the phone than women. Among generations, Millennials made up a huge portion of phone scam victims, right behind seniors.
The survey suggests a need for better awareness of these scams and information on how to combat them.
Security experts recommend that people make sure their telephone number is registered on the National Do Not Call list, 1-888-382-1222.
Being on this list will not stop scammers from calling, but it will stop legitimate telemarketers. When a random call does come in, people will know it is more likely to be a scam. Carrico said scammers use online research sites to learn about their subjects prior to reaching out by phone or email. They have enough information to fake an emergency, or arrange to put a deposit down on a service – whatever the scenario, the potential victim is always asked for personal information that can be used for identity theft or to send money.
"They seem to keep coming up with a new hook and the internet really makes it easy for them," he said.
In an information age that presents plenty of opportunities for online crimes, Carrico recommends that people check their credit report regularly.
He said they should look for accounts they don't know about, or information about credit cards issued in their name and being used fraudulently.
Anyone with a scam to report can reach Carrico at 541-296-2613.
More like this story
Latest stories
Latest video:
Mosier oil train fire
Clips from oil train fire in Mosier, Friday, June 3, 2016. by Mark B. Gibson/The Dalles Chronicle. Enlarge