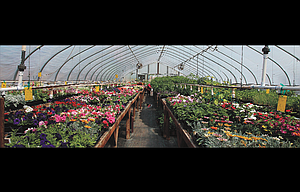 Stumped for what to get Mom for Mother's Day? Look no further than the annual spring plant sale set for this Saturday, May 13, from 9 a.m. to 2 p.m. at City Park.
The sale is a hot ticket, and a number of popular items always sell out, said Michelle Sager, program coordinator for the Wasco County Master Gardener Program.
In addition to plants, the sale will also feature several garden-related vendors, craft vendors, a food booth, and a plant clinic staffed by master gardeners.
Tomato plants are a big seller and always sell out early, she said. Other sellers are petunias and geraniums.
Those, along with herbs and other annuals, are grown at a huge greenhouse located at the regional jail. There, master gardeners work with juvenile inmates of the Northern Oregon Regional Correctional Facilities to grow hundreds of varieties of plants and vegetables and herbs and ornamental flowers, Sager said.
Proceeds from the sale are split between master gardeners and the juvenile facility. It is the only fundraiser for the master gardeners all year, but it is large enough to fund its work year-long, including with the regional jail, the DIG [The Dalles Imagination Garden] by Google and its education program, which includes an after-school program at Col. Wright Elementary.
Most of the plants are in four-inch pots, with some in gallon pots. "It's a nice Mother's Day event, I would say, especially since there's a bunch of crafts," Sager said.
This summer, the NORCOR team will be awarded a third place Search for Excellence award in the category for special needs audiences. "That's pretty exciting for them. That's a pretty big honor."
More like this story
Latest stories
Latest video:
Mosier oil train fire
Clips from oil train fire in Mosier, Friday, June 3, 2016. by Mark B. Gibson/The Dalles Chronicle. Enlarge