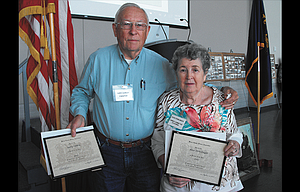 Gary Conley and Rose Denslinger were named as the Wasco County Pioneer Man and Woman of the Year at the 95th Annual meeting of the Wasco County Pioneer Association Saturday, May 6, at the Fort Dalles Readiness Center.
Pioneer Man
Gary Conley's paternal grandparents arrived in Oregon from North Carolina and homesteaded near Shearer's Bridge in about 1898, and his mother's family settled on Smock Prairie near Wamic, now a Century Farm.
Horses were the source of power for farming, transportation and entertainment and were a big part of the family business. His uncles raised race horses and traveled the race circuit in Oregon and California in the days before rodeo.

Conley and his brother started school on Smock Prairie and rode a Shetland pony to school until his father built a cart for him and his brother to ride in. He was in the fourth grade when his family moved to The Dalles, where his father worked for the Union Pacific Railroad. He learned the practical s­kills of farm life when he returned to the farm during the summers to work for his uncles, especially during harvest. He remembers driving a Cat to pull the combine as a teenager.
He attended Wilson School, Whittier Junior High and The Dalles High School, graduating in 1953. He then started his 43-year career with the Union Pacific Railroad. Steam engines were still in use when he started there in 1953. He became an engineer and has many memories; one of his favorite trips was running the train up the Deschutes Canyon to Bend in the spring. They hauled lumber six days a week out of the saw mills in the 1970s. He also ran the last train out of Condon and the last train out of Heppner.
He married Shirley Robertson in 1955. They have three children.
Conley has been a member of the Wasco County Pioneers for nearly 30 years and was curator with Russ McDonald of the Pioneer Picture Board collection for 10 years, transporting them to the pioneer luncheon on the first Saturday of May and to other businesses and locations for public viewing.
He is an active volunteer, using his many talents, his energy and sense of adventure to help others. He volunteers at his church and has delivered Meals on Wheels with his wife for 18 years. His interests include hunting, motorcycle rides on back roads enjoying the open air and scenery, snowmobiling and trail grooming, remodeling and gardening. He is also the current president of the Union Pacific Employees Club and a member of the Elks and Eagles.
Pioneer Woman
While a member of the genealogy society, Rose Rice Denslinger traced her family roots to before the American Revolution, making her a member of the Daughters of the American Revolution.
She remembers moving from Oklahoma to Oregon with her mother and grandmother in 1945, to be near her Uncle Bill Bishop and his family. They travelled to Mosier by train with her sister, Wilma, and brother, Richard.
She said most of the people on the train were soldiers. There was no food service on the train so that at stops her mother or grandmother had to get off to buy food, usually peanut butter and jelly sandwiches and milk. In Mosier they found work on the CDM Ranch planting row crops and picking strawberries.
A house was provided, and they worked from 7 a.m. to 7 p.m. seven days a week during the growing season. As she grew older they picked berries and beans to buy their school clothes and supplies.
Her mother married and moved to The Dalles where Rose attended school.

She married Jack Denslinger, who farmed on Dutch Flat in 1957. They have three daughters.
She enjoyed a career delivering mail on Route 2, which started on Mill Creek, went up Skyline and back down Three Mile, then back to town on Dry Hollow.
She is a cook and a quilter. She led the 4-H sewing club when her girls were growing up, and gave many hours assisting in the gift shops of the hospital and veterans' home and helping with veterans' dinners.
She appreciates history and has volunteered at the Fort Dalles Museum. She has been a supporter and worker at the annual Wasco County Pioneer Luncheon each May for many years. She and her husband took care of the Obrist Road Cemetery on Dutch Flat for 20 years. She enjoys people and has focused on giving back to her community.
More like this story
Latest stories
Latest video:
Mosier oil train fire
Clips from oil train fire in Mosier, Friday, June 3, 2016. by Mark B. Gibson/The Dalles Chronicle. Enlarge