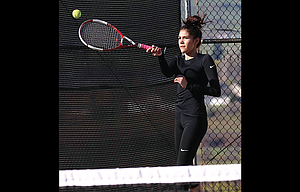 The Dalles girls' tennis coach Debby Jones said Friday's season-ending home match in The Dalles was a perfect test with district coming up on Friday.
In this varsity matchup, The Dalles and Oregon Episcopal School battled to a 4-4 deadlock, were tied in sets at 8-8, and through the total of games won, OES, the 2016 4A state runner-up, grabbed a 59-56 triumph.
"This was a strong opponent to send us into district," Jones said. "There has been a lot of improvement and we definitely have hope for a player or two making it to state, though it will be very difficult this year, due to the dominance of Summit High School, who could probably field all eight district spots."
In Friday's action, Robin Pashek played at No. 1 singles and breezed past Mia Friedman by scores of 6-0, 6-0, and Kiana Pielli dropped a 6-2, 6-1 triumph at No. 2.

"Robin and Kiana kept up their strong play by producing singles wins," Jones said. "I hope both girls are feeling the confidence necessary going into district, that is so important. They both have had such a tremendous season and have carried our team."
After a 0-6, 3-6 loss by Jocelyn Hernandez at No. 3 singles, Yahaira Alvarez strutted her stuff on the courts with a lopsided 6-3, 6-1 victory against Selin Berk in her No. 4 singles matchup.

"Yahaira came up big once again," Jones said. "There have been at least four times in recent matches, where it has all come down to her match. She has handled that pressure like a champ and seems to be growing in confidence, match-after-match."
Abby Minnick and Ellie Trujillo lost their No. 1 doubles match by margins of 0-6, 0-6, Cassie Vazquez and Maggie Corey lost 2-6, 1-6 at No. 2, and Lupita Contreras and Natalie Varland came up short 2-6, 0-6 in a No. 3 contest.
"We struggled with doubles, but we felt it was better to play against a quality opponent, and be pushed, instead of a walk-over with a lesser team," Jones said. "We will have all this week to fine-tune what we need prior to the district tournament."
The only doubles win came from Jessica Vega and Liz Leon, who picked up a 6-0, 6-4 decision over Vasti Cruz and Han Nu.
"Those wins were big bright spots," Jones said. "I think Jessica and Liz played their best match. You can definitely see their improvement."
As the season comes to end for the seniors, Jones recalls all the great moments she shared with her veteran cornerstones. This group of eight have helped grow the program since Jones took over the program.
Win or lose, Jones thinks fondly of Pashek, Pielli, Trujillo, Minnick, Hernandez, Vega, Corey and Vazquez and the great feelings they gave her over the past few years.
"These seniors have really put the effort in and have stepped up huge, but the even better part is the environment they have created for the younger players," Jones added. "Having a team of 42 young women does not happen overnight. It happens because these girls have been very positive role models."
District tennis action starts at 8 a.m. Friday and runs through Saturday in Hermiston.
Latest stories
Latest video:
Mosier oil train fire
Clips from oil train fire in Mosier, Friday, June 3, 2016. by Mark B. Gibson/The Dalles Chronicle. Enlarge