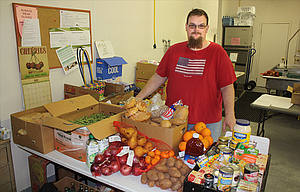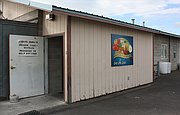 Windy River Gleaners has been handing out food to area residents from its facility at 3400 Crates Way since 2007, but the doors won't remain open there much longer.
"We found out that the building we currently occupy has been sold, and we need to find a new space," said Kristen Burke, vice president of the Gleaners. "Everything will have to be moved from the building no later than May 31."
Windy River Gleaners has been active in the community at one location or another for more than 30 years. The operation got started in The Dalles in 1986.
Burke said the building Windy River Gleaners currently works from was originally shared with Mid-Columbia Community Action Council, an organization based in The Dalles that works to alleviate "the causes and conditions of poverty" in Wasco, Hood River and Sherman counties.
"MCCAC was doing the regional food bank out of their portion of the building, but they haven't been doing that since last summer, I believe," Burke said.
Jim Slusher, executive director of MCCAC, said the organization's mission has changed over the years since purchasing the building.
"The food facility building belongs to MCCAC, and the reason we are selling it is, we are no longer the regional food bank for Oregon Food Bank, so we have no reason to hold onto the building," explained Slusher.
Slusher added that MCCAC has a potential buyer for the building, but he does not know what the new owner might use the building for.
"So far, the board of directors of MCCAC has not decided what they plan to do with the funds from the sale of the building," he said.
With the uncertainty over whether the organization will be able to find a suitable new home, Burke said Windy River Gleaners finds itself at a crossroads.
"Unfortunately, if we do not find a new place to relocate, Gleaners will most likely not continue," Burke explained.
The current site has approximately 2,400 square feet, with walk-in coolers that are a huge benefit to the Gleaners' operations.
Burke said Windy River Gleaners needs a new location, but options are slim and the organization does not have a big budget to work with. For that reason, Burke said she hopes they will be able to find a local business that has space to share or lease at a cost they can handle.
"We have a couple leads we are considering, but nothing promising," Burke said on Friday. "It looks like we are going to have to downsize considerably. I have started a 'Go Fund Me' page online, and we are doing a raffle for a handmade quilt to help get more funds. We are also selling a trailer."
Slusher said MCCAC may step up to help Windy River Gleaners find a new location.
"Although the board has no obligation, it may provide Windy River Gleaners with some assistance to get into a new building," Slusher said.
The food being provided by the Gleaners appears is used by many residents of The Dalles.
"This town needs this place," said Matt Post, a volunteer and board member with Windy River Gleaners.
"About 100 to 150 people come each month to pick up food for themselves and their families," Burke added. "Some of the food supplied to Gleaners is through the Oregon Food Bank and is provided to anyone that is in need, but Gleaners is more than a food bank."
Burke pointed out that gleaning is defined as the act of collecting leftover crops from farmers' fields after they have been commercially harvested, or from fields where it is not economically profitable to harvest.
"Gleaner volunteers will collect food from many sources, including stores, unharvested crops, and restaurant leftovers to distribute it where it is needed. They are collecting food that could otherwise end up spoiled and/or in the trash," she explained.
According to Burke, the building on Crates Way was bought by the Community Action Program in 2007. The plan was to have CAP use the building along with Windy River Gleaners, and Windy River donated some money toward the purchase of the building.
"Gleaners currently still does not have a location to move to and does not have enough funds to relocate," Burke explained. "I would appreciate any help or ideas from the community to help keep Windy River Gleaners going."
Burke said anyone wanting to help can contact Windy River Gleaners via the organization's Facebook page, which has an active "relocation fund" where people can donate. Also, Burke said she often checks the "Messenger" contact site on the Facebook page. "I have regular access to that to check for messages," Burke said.
Windy River Gleaners recently expanded its hours of food distribution. It was previously only on Tuesdays from 9 a.m. to 11 a.m., but lately also has a regular distribution on Fridays, from 5:30 p.m. to 6:30 p.m.
"Expanding distribution with an evening time is to better facilitate a larger portion of the community," Burke said. "Anyone that would like to be a member of the Windy River Gleaners or just needs some food can come by during the distribution times."
More like this story
Latest stories
Latest video:
Mosier oil train fire
Clips from oil train fire in Mosier, Friday, June 3, 2016. by Mark B. Gibson/The Dalles Chronicle. Enlarge