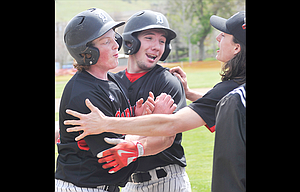 In Saturday's Blue Mountain Conference doubleheader against Sherman, the Rangers had 26 hits and outscored the Huskies 22-6 in a sweep at Dufur City Park.
Kolbe Bales and Sherman starter Maverick Winslow dueled for four and a half scoreless innings, until the undefeated Rangers lowered the boom with an eight-run fifth inning in a 10-0 mercy-ruled victory.
Bailey Keever led off with a double, Bales drove him in with an RBI double, and Pence rifled a two-run home run to give the Rangers a 3-0.
Cayton Sinay notched a two-out, two-run single to left, Bales added an RBI walk and Pence capped the eight-run outburst with a two-run single.
Entering the top of the sixth inning, Bales was coasting through a perfect game on 12 strikeouts, but Sherman senior Max Martin broke up the potential perfect game on a leadoff single to left.
Bales struck out the next three batters and gave his team an opportunity to win in mercy-rule fashion.
With one out in the sixth, Tanner Masterson and Russell Peters posted consecutive singles, and Sinay followed with an RBI single to right centerfield, giving Dufur a 9-0 cushion, before Uhalde smacked a walk-off RBI single.
All told, Dufur finished with 15 hits, as Sinay had two hits, a walk and three RBIs, Pence added three hits, including his home run, a walk and four RBIs.
Connor Uhalde notched three hits, scored a run and drove in another, Keever doubled and scored twice, and Bales rapped out two doubles, walked and drove in two runs.
On the mound, Bales struck out 15 and allowed one hit across six strong innings for his fourth victory of the year, lowering his earned run average to 0.21 to go with 92 strikeouts in 34 total innings pitched.
Winslow allowed four runs, two earned, on seven hit in his four-plus innings pitched. The right-hander struck out four and walked four.
"Mav pitched a great game," said Sherman head coach Joe Justesen. "He is pitching better and better here late in the season. He is such a fierce competitor and he always does a good job for us."
In the nightcap, Dufur jumped ahead 3-0 after one inning, but the Huskies hit for four runs on three hits in the bottom of the second.
Kyle Fields drove in Treve Martin with an RBI double, Trey Homer singled in Fields after a single, Jacob Justesen hit an RBI sacrifice fly, scoring Homer, and Brett Troutman drove in Max Martin with an RBI single, which moved the Huskies ahead, 4-3.
Sherman pitcher Brett Troutman staved off any Dufur rally over the next 2 1/3 innings, until three singles, an error and a walk gave the Rangers a 5-4 lead and chased Troutman from the game.
Louis Red Cloud was issued a bases-loaded walk, and sophomore catcher Russell Peters blasted a 2-0 fastball over the left field fence for his first-career grand slam, swelling the Ranger lead to 10-4.
Uhalde scored the final run of the fifth frame, as two throwing errors allowed him to score from first base.
No. 7 Sherman (13-5, 10-4) committed six errors in the two games and also had three runners picked off in the second game.
"I was disappointed in our mental approach. I think every player made a mental mistake today," coach Justesen said. "It was very frustrating, because you can't afford to have those against a great team like Dufur. You got to be able to go out and play hard all the time and put the pressure on them."
Sherman did its best to rally for two runs in the home half of the fifth on an RBI doubles by Fields and Max Martin, but one runner was picked off and two were left stranded after Keever recorded the last two outs to keep his team ahead, 11-6.
On the mound, Keever pitched 5 1/3 innings of relief to earn his team-leading seventh win of the season.
He allowed two runs on three hits with five strikeouts and five walks.
Fields went 2 for 4 with two doubles, two runs and two RBIs, Homer notched two hits in two at-bats, walked twice, scored a run and drove in another.
Treve Martin was 1 for 1 with two walks, a hit by pitch, and two runs, Troutman tallied a hit, a walk and an RBI, and Max Martin was 1 for 4 with a double, a run and an RBI.
Troutman took the losing decision on the mound for the Huskies, as he allowed five runs, four earned, on eight hits with five strikeouts and two walks in 4 1/3 innings pitched.
Peters drove in five runs, Keever and Bales followed with two hits, two runs scored and an RBI apiece, Tabor McLaughlin and Curtis Crawford posted a hit, a run and an RBI, and Uhalde was 2 for 5 with two runs and two stolen bases.
From his No. 8 spot in the batting order, Peters has gone 4 for 10 with four runs and nine RBIs in the past three games.
"Russell has done great back there. I have really enjoyed having him as my catcher this year," Bales said. "He has really stepped up. He has come in at the moments when we really needed him. We are very lucky that he is on our team this year."
Sherman heads to Elgin for two games on Friday at 11 a.m.
"It is a long season, it has been for everyone, not just us," coach Justesen said. "I really hope that we are not wearing down. We need to battle back from this. We need to get our second wind, perk up, wake up and do the things that we know that we are capable of. We will talk about it at practice and get back within ourselves and finish as strong as we possibly can."
More like this story
Latest stories
Latest video:
Mosier oil train fire
Clips from oil train fire in Mosier, Friday, June 3, 2016. by Mark B. Gibson/The Dalles Chronicle. Enlarge