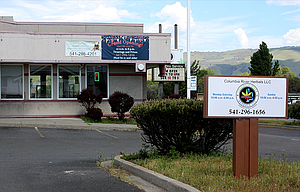 A member of The Dalles City Council has filed a formal complaint with the city, claiming that a local ordinance that prohibits marijuana stores from being within 1,000 feet of each other is not being enforced.
Councilor Russ Brown contends that Columbia River Herbals, which opened in March at the former Arby's restaurant building at 2630 W. Sixth Street, is less than 1,000 feet from another marijuana shop, High Mountain Retail. High Mountain is located at 2722 W. Second Street, approximately 615 feet away.
"The Arby's location opened up in direct violation of our ordinance," said Brown. "I'm angry that planning and legal haven't done anything about the shop operating illegally."
Brown said he went in to City Manager Julie Krueger's office April 25 and filed a formal complaint.
"I don't want this washed under the table and I don't want to reward bad behavior by reversing the ordinance," Brown added.
"He flagrantly violated and should not be rewarded for bad behavior."
On April 26, Gene Parker, attorney for city of The Dalles, sent a letter to Norm Brock, the owner of Columbia River Herbals, by certified mail, outlining the nature of the alleged violation and providing a 10-day period for the violation to be corrected.
"In 10 days, we will verify if the business has not stopped operating, and assuming it continues to operate, a complaint will be filed against Mr. Brock and the limited liability company which owns the property," Parker explained in an April 26 email to Brown about the action the city was taking.
However, on May 9, after the 10-day deadline had passed, Brock said nothing has changed.
"At this point, I have been told there is no enforcement
action planned," Brock explained.
"The city council has been working on amendments to the Land Use and Development Orddinance and plan to have a vote soon. We've been in discussion with Gene Parker, the city attorney; I am hopeful this gets resolved quickly and favorably."
Parker said he is waiting for further direction from the council.
"The ordinance that includes language proposing to reduce the distance between retail marijuana facilities from 1,000 to 500 feet, subject to a conditional use permit, is scheduled to be reviewed by the city council on May 22," Parker said.
"I do not plan to take any further action concerning the alleged violation until the council has made a decision as to whether they will adopt the proposed ordinance."
Parker also pointed out that the city is not taking any action against the other store, High Mountain Retail, because that business is not considered to be out of compliance with the city's ordinances.
"They were registered with the Oregon Liquor Control Commission before Mr. Brock's operation on W. Sixth Street," Parker explained.
Brock said he has turned the issue over to his attorney.
"I'm not really sure what I should say, other than I have no plans to close that store," Brock said.
"Obviously, my desire is that this gets resolved quickly and favorably without putting me at odds with the city.
"Yes, it is stressful and frustrating. But I don't feel I am in violation of the city's Land Use and Development Ordinance. If I am, it is not as a result of my actions."
Brock, who also operates a marijuana store downtown at 609 E. Second Street, which is in compliance with the city's marijuana ordinance, explained that he was told by city officials that no other prospective pot retailers would be within 1,000 feet of the Arby's building.
Further, because his store was the first marijuana shop in The Dalles, he added that he believed The Dalles Planning Commission was considering "grandfathering in" his new store.
To accommodate the influx of new marijuana businesses, the city has been considering ways to revise the ordinance, including reducing the buffer between marijuana shops from 1,000 feet to 500 feet.
In an April 30 email to Mayor Steve Lawrence, Brock hinted at legal action against the city.
"Obviously at this point, shutting my doors would place a great financial burden on me and cause me to lay off seven employees who currently work at that location," Brock wrote. "In addition, this could potentially put us at odds with the city, which I prefer not to happen."
Upon finding out about city attorney Parker's letter to Brock, Lawrence sent an email to Parker, contending that Parker should not have acted without the city council having a chance to discuss the situation.
"I was not aware you were going to issue the letter referred to here without discussing the matter with council," Lawrence wrote in an April 30 email to Parker.
"Since when do individual council members get to ask the city attorney to take action? Since this looks like it may result in potential litigation, I would ask that you take no further steps until the ordinance is passed and we are able to hold an executive session ... This is a classic example of why individual council members should not be trying to give you or Julie (Krueger) or any of the other department heads instruction on what to do. I believe this could be a very bad precedent."
"The mayor thinks I stepped out of line," Brown said.
"All I'm asking them to do is their job. The mayor said our policy is enforced by 'complaint only,' but why create ordinances if no one is going to enforce them?"
Brown said the fact it was a marijuana shop had nothing to do with his concern over city ordinances not being enforced.
"I don't care if it's selling Tootsie Rolls, if we have an ordinance saying you can't sell them within 1,000 feet of another Tootsie Roll store, it's a violation," Brown said.
More like this story
Latest stories
Latest video:
Mosier oil train fire
Clips from oil train fire in Mosier, Friday, June 3, 2016. by Mark B. Gibson/The Dalles Chronicle. Enlarge