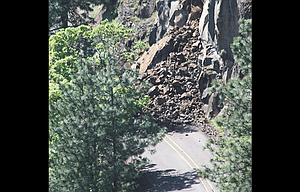 You know it's bad when the Oregon Department of Transportation has to call geologists to inspect the area before cleanup work can even begin at the site of a rockslide.
That is the situation on the scenic Rowena Loops stretch of Highway 30, just east of the busy Rowena Crest Viewpoint.
"Geologists are on site right now, assessing the safety of the area so they can determine what needs to be done to make the area safe for workers and equipment to begin removing the fallen rock," said Brad DeHart, transportation engineer for ODOT in The Dalles.
According to Scott Peters, regional operations coordinator for ODOT, the rockslide occurred at around 7:30 p.m. Sunday, May 7, and it was a serious one. Peters estimated that approximately 700 cubic yards of rock and debris came down, covering both lanes less than a mile east of the overlook.
Peters said it is the biggest slide ODOT has had to deal with in the Mid-Columbia region so far this year.
Peters said the slide went over the roadway so extensively that it is difficult to tell if a car could be buried under all that material. ODOT officials are hoping no one was driving or biking in that location when the rock came down.
"That's the hope," Peters explained. "There's enough rock there, it's not easy to tell."
In addition to the huge volume of rock, Peters pointed out that some of the boulders that came down were as much as 8 feet in size. Peters said the roadway will be closed to all traffic indefinitely.
"Road closed" barricades have been posted just beyond the entrance to the Rowena Crest Viewpoint west of the slide, and at Rowena Ferry Road on the eastern side.
"I would expect the highway to remain closed for a few days at least. It appears there will be some rock-scaling needed before the removal work can be started. We have no idea on the cleanup costs yet," Peters said.
Rock scaling is the removal of loose rock from the slopes.
According to Peters, the geologists need to thoroughly inspect and evaluate the conditions before any cleanup work can get started. For now, no rocks can be cleared, because that could cause more rocks to fall. "The highway is closed, and that area is extremely unstable," explained Peters, adding that the road closure warnings apply to everyone, not just automobiles and trucks.
He said he witnessed a bicyclist climbing over the rock slide Monday morning, and cautioned that trying to get through the area in its current state could potentially turn lethal.
"The area is also closed to bicycles," Peters warned.
More like this story
Latest stories
Latest video:
Mosier oil train fire
Clips from oil train fire in Mosier, Friday, June 3, 2016. by Mark B. Gibson/The Dalles Chronicle. Enlarge