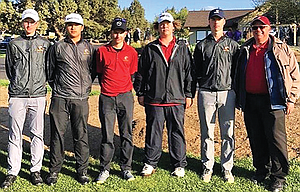 From the start of the season, The Dalles seniors Chase Snodgrass and Mark Felderman were dead-set on making a return trip to state in golf.
Through two days of playing under harsh conditions, the two veterans will realize their dreams and aspirations.
Snodgrass finished fifth overall with a two-day total of 159, and the Riverhawks tallied a 682 to finish tied for third overall at the Class 5A Special District 2 Championships held at Eagle Crest in Redmond.
Felderman said he was thankful to get another shot at state, especially since he felt that the team did not play its best.
"I'm am so thankful to get one more shot at state," Felderman said. "We played against some great teams, so this is a rewarding feeling. The fact that we battled back today and played better than yesterday shows how tough we are mentally. We made it our goal to make it to state and we really had to battle hard to make sure we actually made it."
On the first day, Snodgrass shot an eight-over par 80 on the day, Tyler Vassar picked up an 83, Aidan Telles shot a 90, and Felderman added a 92 to his total to put the Hawks in a third-place tie with a 345.
Three of the four Hawk golfers shaved down a combined 11 strokes on the second day, with Felderman showing the biggest improvement, dropping from 92 to 84 for his 176.
Snodgrass added a 79 to his scorecard to get a 159 to secure fifth place in the field, six strokes behind tournament champion, Ridgeview's Isaac Buerger, who carded a 153.
Vassar jumped from 83 to 86, but still managed the team's second-best outcome of 169, and Telles hit for an 88 in second-day action to grab a 178.
On the first day, Jacob Ford played six holes before withdrawing from action due to a leg injury.
He played nine second-day holes, but could not finish the round.
"Jacob tried his hardest to play on both days, and quite frankly, played very well," Vassar said. "But he just couldn't hold out. Knowing that we were only going to have four scores, it pushed us harder to play well to stay in the top-5."
Led by the top-4 finishes of Cole Chrisman (155), Eric Wasserman (155), and Dawson Ruhl (156), Summit tallied a 622 to claim its district crown over second-place Marist (681) by 59 strokes.
TD ended up tied for third with Thurston with a 682, and staked Brayden Pulver's ninth-place 163, Pendleton claimed fifth place after a 685 to secure the final state slot.
"It was definitely a big accomplishment for us and I am proud to help to the seniors with one final dance at state," Vassar said. "The conditions were very bad the whole time we were playing, but we couldn't let that get into our heads. We had to stay focused and complete our goal of making it back to state."
Last season at state in Corvallis, Snodgrass ended up tied for 11th place with a 153 and The Dalles boys' golf team totaled 656 for a sixth-place tie with Sandy.
Instead of tackling the challenging 5A field at Trysting Tree, the Riverhawks are determined to put up even better numbers Friday and Saturday at Quail Valley Golf Course in Banks.
Felderman is cautiously optimistic that the team can play much better on what he feels is an easier course.
"After the way we played this weekend, our goal is to focus a little more to play well at the state tournament," Felderman said. "We are very motivated to play well and shock the other schools at state. It will feel really rewarding to play well and place better than the other schools that beat us."
More like this story
Latest stories
Latest video:
Mosier oil train fire
Clips from oil train fire in Mosier, Friday, June 3, 2016. by Mark B. Gibson/The Dalles Chronicle. Enlarge