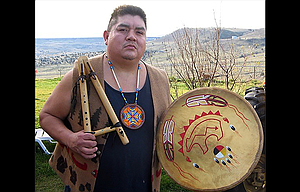 Native flute music will be featured at the Cascade Singers' concerts this weekend, May 6 and 7.

James Edmund Greeley from Warm Springs will accompany the choir on three Lakota songs expressing hope for the renewal of the earth. He will also play several solos from his CD "Before America."
The concerts takes place at Zion Lutheran Church, 10th and Union Streets, The Dalles, on Saturday, at 7 p.m. and Sunday at 3 p.m. Donations accepted at the door.
"Blessings on Earth" is the theme. Cascade Singers and Cascade Youth Choir will bring Native American, world music, and traditional songs to the program. Cascade Singers' Ensemble, a small group within the larger group, will sing two pieces in jazz idiom accompanied by jazz pianist Rule Beasley.
Greeley is a talented Native American flutist. His large collection of native flutes are featured in the July 2016 release by Ibori Records, "Before America."
The CD includes 17 songs, some from the Southwest and more from the Northwest including songs with local connections: "Salmon Feast," "Huckleberry Feast," "Celilo Falls," and "Nichi'wana," the Big River.
"Native flute music has been here 3,000 years plus," Greeley said. "Today I perform to enlighten and bring back my heritage for all nations and all my relations."
This concert was intended to take place last December. After a second weather-related postponement in January, it was rescheduled to the May dates. Some, but not all, of the original Christmas music has been replaced with springtime numbers.
More like this story
Latest stories
Latest video:
Mosier oil train fire
Clips from oil train fire in Mosier, Friday, June 3, 2016. by Mark B. Gibson/The Dalles Chronicle. Enlarge