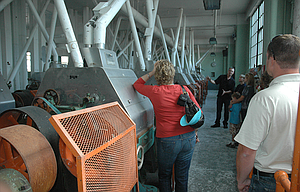 Correction
Last Friday's article "Clouds gather over Sunshine Mill" incorrectly stated that John Willer, a member of the Columbia Gateway Urban Renewal board, was present at the meeting to question James Martin, owner of the business, about his financial situation. Willer was not in attendance.
The Columbia Gateway Urban Renewal Agency board was conflicted Wednesday about how to deal with a request by the owners of Sunshine Mill to have a balloon payment of $350,000 forgiven 12 days before its due date.
James Martin, president and chief executive officer of Sunshine and Copa di Vino, was present at the special meeting of the eight-member board.
He asked for elimination of the final payment of a $600,000 loan made in 2009 for property improvements and repairs. That payment is due May 15.
Martin also requested to restructure the $309,770.55 balance on a land sale contract, which is due in May of 2018.
He said other properties purchased by urban renewal had been given to developers at steep discounts or no charge in recent years. In addition, he said grants have been awarded for fire suppression systems, something not available when Sunshine opened its doors seven years ago.
AGENCY ACTIONS
Martin was referencing an urban renewal decision in 2015 to sign over the old Elks building at Third and Court for $1 to David Blanko for development of a National Neon Sign Museum. The agency paid $245,000 for the vacant building.
Negotiations are underway with Tokala Development to turn over, at no cost, the former Tony's Town and Country building on Second and Federal streets that was purchased by urban renewal for $450,000 to accommodate 50 apartments and retail outlets.
Recently, urban renewal sold the Granada Theater, purchased for $385,406, to Charles Gomez Productions for $60,000.
The agency purchased the Sunshine Mill property at 901 Second Street in 2005 for $295,267 when all costs were added in.
PLANTING A SEED
Martin said his operation was already spurring economic development by providing needed jobs and should qualify for similar assistance. Copa di Vino, a separate business entity also run by the Martins that is the mill's tenant, currently employs 43 people and another 12 work in the Sunshine Mountain vineyard on Emerson Loop Road.
Martin said the 131-year-old mill had been abandoned for decades and was in disrepair before the Martin family decided to set up shop to produce wine in a glass. Because of their investment and creation of jobs, he said the city was able to score $4.1 million in state and grant funds to construct the roundabout at the east end of town.
He said Sunshine had served as an "anchor business" for other development, including two new breweries and four pubs.
"We're just the seed, we started something," he said. "We brought a lot of things to light because we were willing to take the risk and make it happen."
ECONOMIC UPDATE
Martin said an unanticipated supply chain failure last year had caused a revenue shortage that made repayment of the two loans to urban renewal difficult.
In addition, he said exposure of the product by his two appearances on Shark Tank and other national publicity had created competition in the industry.
He said leaving the antique equipment in place, and working in an old building, drove up some business costs, but he felt the historic character was essential to the culture of the industry.
Although the enterprise was worth millions, he said expenditures were high and net income low.
"It's sustainable but it isn't where we want it to be," he said.
For that reason, Martin said it was important to investors that more revenue be generated by proceeding to the next phase of development; converting the former grain silos into a hotel that would attract visitors.
The mill currently has a tasting room for Quenett and Copa di Vino wines.
Martin said grapes would be crushed on the roof of the hotel and the liquid carried in glass tubes through an area of the building where it could be viewed by guests as a unique attraction.
"The economy is ripe to move this project forward," he said.
PROS & CONS
Scott Harris, city planning director, told the board that the agency budget would "take a big hit" if Sunshine's payment was not made.
He said not having the $350,000 available could halt other economic development projects.
At the end of a lengthy discussion, the majority of the board at the May 3 meeting indicated they wanted Sunshine's loan paid in full.
However, by a vote of 5-3, they approved a 90-day delay on default of the loan and directed staff to negotiate new terms with the Martin family.
The motion to seek a new agreement was made by The Dalles City Councilor Darcy Long-Curtiss. She said the Martins had converted a blighted property into a tourist attraction, and had brought new economic development opportunities to the area.
"Everything's so beautiful it's easy to forget what it looked like before, to forget those jobs," she said. "I feel like the Martins stepped up and made something beautiful for our community.
"I think attacking them and saying they are not doing what they are supposed to do is just bad form."
She was referencing strong comments made by John Fredrick, a citizen member of the board, who opposed her motion, as did Linda Miller, another representative from The Dalles City Council, and Steve Kramer, Wasco County commissioner.
"Was the project ever properly vetted by urban renewal?" asked Fredrick. "My concern is that there's been extension after extension after extension and here we're back again today."
In a staff report, Harris noted that there had been four amendments to the original loan agreement, one of which had increased the interest rate from 4.25 to 5.25 percent.
He stated that $250,000 had been repaid of the original $600,000 loan.
Harris also reported that there were two amendments to the land sale contract, which had boosted the sale price by about $4,000 and increased the interest rate by a full percentage point.
Martin said some of contract changes had come at the behest of the city.
For example, he said city officials had agreed to rent the property from 2009 to 2019 and then required a purchase in 2013, which had affected the financial plan of the business.
Miller asked Martin what percentage of ownership his family held in Copa de Vina.
"We control the voting shares but less than half ownership," he said
She later said, "I voted the way I did because I don't want to see the $350,000 debt forgiven. When I go into debt I have to pay."
Martin reiterated that he was not thinking "forgiveness," just getting the same opportunities that had been granted to others. "We didn't get all the wheels that everyone else got," he said.
Kramer said he wanted to see the newly restructured board focus on street and utility improvements to aid in economic development and steer clear of buying properties.
The city eliminated the advisory committee and a decision-making board that was comprised entirely of city councilors.
"I can't do forgiveness with taxpayer dollars, that's not what I was put in office for," Kramer told Martin.
LOOKING AHEAD
Long-Curtiss' motion was approved with some reluctance by Scott Baker, executive director of Northern Wasco County Parks and Recreation District; Staci Coburn, a Port of The Dalles commissioner; Taner Elliott, chair of the urban renewal board and a city councilor; and John Willer, a Mid-Columbia Fire & Rescue board member.
Baker expressed concern that urban renewal officials would work out a new deal and then Copa di Vino would move its operations to another location.
"I was hoping to see in this proposal that, if you make this deal, the tenant would sign a long-term lease," he said to Martin.
Elliott said at the start of the discussion: "One of the frustrations I've had with this proposal is that you didn't come in 90 days before this payment was due to start this conversation."
Coburn also told Martin the board had been put in an "uncomfortable position."
Martin apologized for the short notice on the requests and said he was not "complaining" about his situation, just hoping to continue a long-standing partnership."
"We're all in this together," he said.
Willer asked if Martin had tried obtaining a conventional commercial loan to repay his debts.
Martin said commercial lenders did not want to take on the risk of a structure more than a century old.
He had not wanted to seek a "hard money" loan because interest rates are typically higher and duration of debt service payment much shorter, which put the business more at risk.
Martin expressed concern that a 90-day delay in a decision could cause investors and employees to grow nervous about continuing with the operation.
If urban renewal ultimately chose to foreclose on the property, Martin said everyone would "lawyer up because there is a lot of money tied up in that facility." He wanted to prevent that possibility by finding another solution.
While negotiations are underway, Martin has agreed to pay interest-only payments of $10,000 per month on the loan.
He will also continue paying $1,354 per month in interest-only payments on the land sale contract.
The urban renewal board decided to address his request to restructure that contract at a later date.
More like this story
Latest stories
Latest video:
Mosier oil train fire
Clips from oil train fire in Mosier, Friday, June 3, 2016. by Mark B. Gibson/The Dalles Chronicle. Enlarge