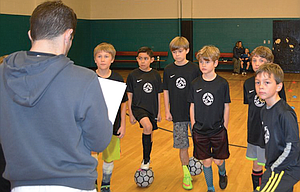 The Dalles Soccer Club is scheduled to run on-site registration from 9:30-11:30 a.m. Saturday at Chenowith Elementary School.
Costs to join are set at $55 per player, and coaches receive half off a player, which will be refunded after teams are formed. Scholarships are available for the first 50 that qualify.
Parents can register in person or online at www.gorgesoccerleague .com.
Through meetings and discussions, The Dalles Soccer Club has decided to switch from AYSO to Gorge Soccer League (GSLTD).
By keeping GSLTD local, the long-term focus of the program spans further than improving the soccer experience for children in The Dalles, but it gives board members and organizers an opportunity to keep thousands of dollars a year locally to reinvest into the area's youth soccer community that used to be paid to a national organization, out of state.
GSLTD also has a co-ed adult league and a 5-on-5 spring league available for year-round activities.
Board member Julie Massey-Whitaker said she is excited about the changes, as long-time board members are still involved, and there are new members who bring enthusiasm and great ideas to the table.
"The Dalles has always maintained a phenomenal youth soccer program and none of that will change," Massey-Whitaker said. "We will just be able to offer better equipment and have the amazing involvement of the University of Portland Pilots men's soccer program assisting with a soccer camp and coaches training that is included with the registration fee."
In addition to the three-day summer camp and the coaching clinics, running from July 14-16 at Chenowith Elementary School, players will have top of the line equipment from companies like Nike, Sklz, and Kwik Goal, with jerseys provided by Nike.
There is a new TeamSnap software/smart phone app feature that provides a quicker and easier way for coaches to communicate with their team and for parents to check schedules.
All soccer athletes and their parents will be given an opportunity to attend a University of Portland Men's Soccer game with free admission.
"With local interests and community investment at the top of the list, GSL is dedicated to improving field conditions and facilities, so The Dalles will become the new soccer destination in the Gorge," said program CEO Matthew Dallman.
While there are some changes, there are a few things that will remain the same, with the U6-U10 games being played on Sundays, U12-U16 games scheduled for Saturday and the coaches will still be community volunteers.
"The Goal of GSL is to provide a fun and organized learning experience for all young athletes in The Dalles area," Dallman added. "While GSL is a recreational league, it also serves as a platform for kids to develop an interest in playing more competitive soccer."
Dallman also headlines the Gorge Soccer Academy, which is running a six-week summer slate, beginning on the first week in June. Costs to attend the academy are $165 per player, including a Nike GSA training jersey.
Trainings twice a week in both Hood River (Monday & Wednesday) and The Dalles (Tuesday & Thursday) locations.

Due to high demand, there is limited availability for the academy.
Dallman feels like the influence of an experienced and knowledgeable coach can have a lasting impact on an athlete's abilities and success.
So, by keeping the academy's coach-to-player ratio high, GSA is able to provide a more hands-on individual player focus, which other clubs and programs are not able to offer.
"We believe that in the early years of a player's career, technique, foot skills and fundamentals are crucial for success," Dallman said. "An athlete's developmental years should not be left to chance. When a player is able to create good habits and a high level of technical skill at an early age, they will be more coachable and successful when game tactic is introduced to them."
Joining Dallman and Massey-Whitaker are board members Andrew Hampton, Colby Tonn, Oscar Nunez, Andy Walker, Erica Jones-Holt and Sarah Bzezi.
Dallman enjoys being surrounded by like-minded individuals, who have a focus on giving back to the area youths.
"The GSLTD board is made up of community members, past and present soccer coaches, and parents of youth soccer players," Dallman said. "We have been volunteering to support youth soccer in The Dalles in various roles for many years, and we are committed to improving the program offered to children in our community and the Gorge."
For news and updates, email Dallman at gorgesoccerleaguetd@gmail.com.
More like this story
Latest stories
Latest video:
Mosier oil train fire
Clips from oil train fire in Mosier, Friday, June 3, 2016. by Mark B. Gibson/The Dalles Chronicle. Enlarge