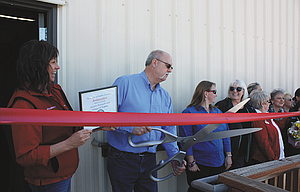 With orchards and vineyards a growing segment of the area's agricultural economy, a Yakima, Wash.-based company has moved into The Dalles to tap into the expanding market.
Last Friday, Wilson Orchard & Vineyard Supply officially celebrated the opening of its new store, at 210 Webber Street in The Dalles, with a ribbon-cutting ceremony hosted by The Dalles Area Chamber of Commerce.
"Wilson's is a one-stop solutions provider for commercial orchards and vineyards, offering a full suite of irrigation, planting, development, and harvesting equipment and supplies, as well as irrigation systems designs," said Joe Perry, chief executive officer of Wilson's.
Perry, who lives in Yakima, said the company is working to enhance its value within its market niche.
"Wilson's enjoys a strong reputation in some of the world's most prolific and aggressive growing regions for tree fruit, vineyards, berries and hops," Perry explained. "Wilson's is the company that brings innovative products to the growers, enabling them to enhance fruit production, along with fruit quality, which increases grower profitability."
In addition to directly serving consumers in and around The Dalles, Wilson's ships directly within the United States to locations where Wilson stores are not present. The company also ships direct to growers outside the U.S.
The new Wilson's facility encompasses approximately 4,800 square feet, and has a storage yard for pipe and trellis supplies.
According to Perry, Wilson Orchard & Vineyard Supply now has a total of eight stores in Washington, Oregon and California. The company is seeking to open additional stores in other areas of Oregon, as well as in the Central Valley of California.
Perry said officials with the city of The Dalles were easy to work with, and he praised the community for making its entry into a new market go smoothly.
"The Dalles has been the easiest of all of our stores to open," Perry said. "The city was extremely helpful and quick in response to all our needs in getting up and running quickly."
Perry said the new location in The Dalles currently has three employees.
"Two who cover the store and deliver — Norberto Hernandez and Leonardo Torres — and Gabe Dahle handles outside sales," Perry said. "Wilson salespeople are true consultants who are knowledgeable in regard to hanging fruit to include irrigation, trellis, cloth and reflectives, knowledge that is sought worldwide."
Wilson Orchard & Vineyard Supply is open Monday through Friday from 8 a.m. to 5 p.m., and on Saturdays from 8 a.m. to noon.
More like this story
Latest stories
Latest video:
Mosier oil train fire
Clips from oil train fire in Mosier, Friday, June 3, 2016. by Mark B. Gibson/The Dalles Chronicle. Enlarge