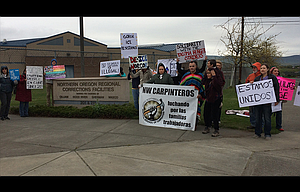 A group began picketing the regional jail Monday, supporting immigration detainees who are on a hunger strike to protest what they say are poor living conditions. The jail administrator disputed all their claims.
A group of up to 35 people picketed on the sidewalk in front of the Northern Oregon Regional Corrections Facility (NORCOR) late Monday afternoon, and plans are to protest daily in the early evenings through Friday, and at mid-day Saturday.
Jail Administrator Bryan Brandenburg said three male detainees will have officially been considered on a hunger strike as of this morning, Tuesday. Under the rules of the U.S. Immigration and Customs Enforcement, a detainee is not considered to be on a hunger strike until they refuse nine consecutive meals, he said.
He said detainees on hunger strike are monitored daily. Medical staff offer to take vital signs and weigh them, to check if they lose weight. He said they have refused to do that at this point. He said they are not refusing water.
He said some of the men on hunger strike have been taking food from the commissary in lieu of the meals provided by NORCOR.
Amber Orion, a member of one of several groups that have come together to form the Gorge ICE Resistance Coalition, said at least five detainees were on hunger strike, and all had originally come from the Tacoma Detention Center, where they began a hunger strike April 11.
She said it was difficult to say how many were on hunger strike in The Dalles because detainees are frequently moved.
She said up to half the detainees at the 1,500-person Tacoma facility went on hunger strike, but that number dwindled into the 40s, with several leaders of the strike being relocated, including to The Dalles, as retaliation.
She said frequent relocation is used as a tool to prevent detainees from building a case in their own defense and to separate them from their families.
Orion said detainees have claimed the regional jail in The Dalles is the worst detention facility on the West Coast; that they only get one hot meal a day; and sometimes do not get clean socks or toiletries like deodorant and dental floss.
Brandenburg said ICE detainees and inmates get two hot meals a day and one sack meal under a meal program designed by a licensed nutritionist.
As to deodorant, dental floss and clean clothes and socks, Brandenburg said, "they get all the same privileges that the other inmates get, so they have access to hygiene items. They get a uniform which includes socks and underwear, and that's exchanged every other day with a clean set and we do the laundry for them."
Brandenburg said the jail gets over 3,000 inmates per year, or about 300 a month "and nobody has complained about the conditions at NORCOR."
He added of the jail, "It's not a bad place. We really treat people the best we can. We try to make their stay as comfortable as possible given the circumstances."
Protester Erin Vance said feedback from the public about the protest has been largely positive, with just a few thumbs down. One police officer stopped and said he appreciated that they were demonstrating peaceably, saying that wasn't the case in other communities, protester Amy Krol said.
They will be protesting each night through Friday, from 5 p.m. to 6:30 p.m. and Saturday from noon to 2 p.m.
They plan to protest as long as hunger strikers are in the jail. Their long-term goal is to not have an immigrant detention center in The Dalles.
John Boonstra, a minister at United Church of Christ in Hood River, was able to meet with ICE detainees Monday morning.
Detainees and inmates are allowed to meet with clergy on Monday and Friday mornings if they request it, Brandenburg said.
Boonstra said he met with a couple detainees Monday, including one on a hunger strike who has been held in "prison-like settings for over a year even though they are not charged with any crime."
Boonstra said ACLU officials also met with detainees in The Dalles. "And what we've heard, each of them has a story that conditions here at NORCOR are much worse than the conditions at the Northwest Detention Center in Tacoma. A long list of things, they're very much like prison conditions, because as they realize, and we recognize, they haven't done anything. They haven't committed a criminal offense."
He added, "Many of them would say, 'We shouldn't be here because we're not criminals. All we did is we came here without papers.'"
Boonstra said he had to know the detainees by name in order to visit them.
He said detainees are only allowed one hour of time in an outdoor area, often early in the morning. Brandenburg said the detainees have the same access to the open-air area as inmates.
Boonstra said the detainees are not allowed to work and are charged 25 cents a minute to call friends and family.
Brandenburg disputed that, saying, "A lot of the folks from immigration will work as inmate maintenance workers. They'll clean the units and they also work on buffing and cleaning the floors. They work in the kitchen, they work in the laundry. Not all of them, but if their trustee level is appropriate we hire them, just like everybody else gets an opportunity to fill those jobs."
He said they cannot earn pay like other inmates. Instead, they earn credit at the commissary.
Brandenburg said the detainees have the same rights to phone family and friends as other inmates.
Brandenburg noted the detainees are kept in an open dorm, and are not locked in cells like inmates.
The detainees are in their own dorm and are separate from the inmates.
About 40 detainees are kept at the regional jail, a facility that houses inmates from Wasco, Sherman, Gilliam and Hood River counties.
Boonstra said he does not trust statements by ICE on the national level that most of the people it detains have criminal histories. He bases that on numerous reports throughout the country of people detained without criminal backgrounds.
In a press release, the Gorge ICE Resistance Coalition said, "One hunger striker told Gorge ICE Resistance today, 'It's not fair what they're doing to us. We have basic needs. We're immigrants, but we have rights like any human being. To take those away for no reason isn't right.'"
The group contends the regional jail is violating Oregon law by using public facilities to enforce federal immigration law. A 1987 Oregon law prevents state and local police from using Oregon public resources in enforcing federal immigration law.
Brandenburg said a few days ago he put up a statement on the jail's website, under the information tab, that provides information on "immigration and customs housing." It explains that no county or state funds are expended to cover their detainment.
Krol said in the press release, "These ICE detainees are human beings and deserve to be treated with dignity. Their living conditions at NORCOR are so terrible that they are willing to deny themselves sustenance for that dignity. Are we willing to have the grace to listen to them?"
Brandenburg said he did not object to the protesters' presence. "This is America. They have a right to peaceable assembly. I would not want to stand in the way of that."
More like this story
Latest stories
Latest video:
Mosier oil train fire
Clips from oil train fire in Mosier, Friday, June 3, 2016. by Mark B. Gibson/The Dalles Chronicle. Enlarge