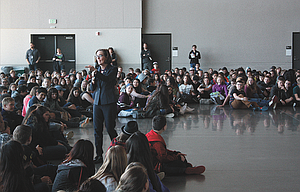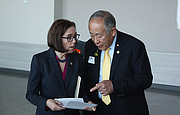 Gov. Kate Brown came to The Dalles on Friday for a lengthy visit that focused on several of her top priorities as governor — education, agriculture, and economic development. It was Brown's first visit to The Dalles since taking office in February of 2015.
Brown arrived early Friday on a busy tour that first took her to the Fort Dalles Readiness Center, where she met with Columbia Gorge Community College officials and offered advice and encouragement to nearly 400 high school students who came to the center as part of the Gorge Technology Alliance's "Career Day" activities. The event promoted science, technology, engineering and math (STEM) studies.
Brown strolled into the crowd, asking specific students what career field they planned to pursue. She reminded them of the need for workers in mathematics and technological fields, and stressed the value of a good education.
"It's not every day the governor visits," said Dr. Frank Toda, president of CGCC, who escorted Brown around the campus.
"Creating a seamless pipeline from education to career is a key priority for Gov. Brown, particularly in rural communities that have been slower to see the economic gains of urban Oregon," said Chris Pair, communication director for Brown.
After leaving the readiness center, Brown met with a variety of community leaders for a Regional Solutions Committee meeting. The Regional Solutions organization works in various communities around the state in conjunction with the governor's office to effect positive change for Oregon residents at the local level.
"This meeting was on Regional Solutions Committee priorities — housing and broadband," said Wasco County Commissioner Rod Runyon.
Runyon said two issues he would like to see the state focus more resources on include providing technical assistance grants to Wasco, Hood River and Multnomah counties to help county planners be able to work more effectively in their roles related to the Columbia River Gorge Commission.
"After the meeting, I spoke briefly with the governor on this item," Runyon said. "And I wish there would have been an opportunity to dialogue about budget issues regarding veterans, and a transportation package that is equitable to Eastern Oregon. I will find other avenues to use to press forward to help rural Oregon, such as my positions with the Association of Oregon Counties." Runyon is co-chair of the AOC's Veterans Committee, and serves as a member of the AOC Legislative Committee.
The Dalles Mayor Steve Lawrence also met with the governor during Friday's Regional Solutions forum.
"I have known the governor since she was in the Legislature and I was on the board for Oregon Trial Lawyers," Lawrence said. "She is very interested in economic development in rural areas, and so that was the gist of our conversation. She allowed us to share with her our issues."
Early Friday afternoon, Brown hosted approximately 25 representatives of the area's farming and agricultural sector for an hour-long discussion of key issues over lunch at Freebridge Brewing.
After the luncheon, Brown said important issues were raised, mentioning trade and immigration policies in particular. According to Brown, President Donald Trump's crackdown on illegal immigration is having a potentially damaging impact on area farming operations.
"Immigration policies are key for the local workforce," Brown said. "This came through very clear. A huge portion of the agricultural workforce is immigrant-based, and this (aggressive immigration enforcement) takes away from the labor pool. Families that feel safe and welcome here are a key part of getting products to market. Certainly, we're in alignment on that issue."

Brown said the state has not been directly threatened with the loss of federal funds due to Oregon's state law that stipulates that state resources cannot be used to enforce federal immigration law in cases where a person's only crime is being in the country illegally. The law has been on the books in Oregon since 1987.
Noting that wheat is among Oregon's top agricultural commodities, Brown said she wants to help ensure the nation has "fair and common sense trade policies" to allow Oregon's products to be sent to foreign markets in a way that maximizes benefits to Oregon farmers.
Another issue Brown said she is keenly interested in is the importance of maintaining the heritage of family farms.
"How do we ensure that farms and ranches that have been in one family for generations can stay in that family and be passed on to new generations?" Brown said.
On Monday, Gov. Brown's press secretary, Bryan Hockaday, said the visit to The Dalles was positive and productive.
"Gov. Brown has visited Mosier and Hood River in the past year, but last week's visit was her first in The Dalles while in office," Hockaday said. "Gov. Brown very much appreciated the constructive discussions she had with students and community and business leaders in the region."
More like this story
Latest stories
Latest video:
Mosier oil train fire
Clips from oil train fire in Mosier, Friday, June 3, 2016. by Mark B. Gibson/The Dalles Chronicle. Enlarge