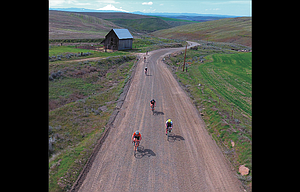 More than 400 bicycle racers will gather in The Dalles this weekend for two days of racing and rides as the Fifth Annual Gorge Roubaix Bike Race and Gorge Gravel Grinder Ride come to town.
The race and ride are unique in that most participants will be riding standard skinny- tired road bikes even though the course takes them on a number of gravel roads throughout Wasco County.

"Gravel road riding has exploded in the last couple of years," said race director Chad Sperry. "Many cyclists are finding out that the new equipment can withstand the rigors of riding on gravel and it allows them far more opportunities. In Wasco County, where we have more gravel roads than paved, it opens up a lot of options."
The rides are not without challenges, though, and mechanics with Mt. View Cycles will be on hand to help keep riders rolling across the challenging courses.

The race kicks off on Saturday, 9 a.m., from the campus of Wahtonka Community School with a race out to Mosier along the Old Historic Highway. The route then goes up Dry Creek Road, descending State Road to Marsh Cutoff and back to The Dalles.

Travelers should be prepared for delays along Historic Highway 30 between The Dalles and Mosier throughout the day.

Sunday will be the Gorge Gravel Grinder challenge ride, and sets out from Union Street, in front of Clock Tower Ales, at 9 a.m. The ride heads east through town and out toward the old Petersburg School. Riders will head up Fifteenmile Road to Center Ridge and Tygh Ridge Roads before looping through Dufur and Boyd then back to town via Emerson and Eightmile roads. The post-race party and awards will be held at Clock Tower Ales starting at noon. The public is welcome to come and cheer on the riders.
Riders of all abilities will be participating, from beginners to seasoned pros.
The Gorge Gravel Grinder kicks off the Oregon Gravel Grinder Series, which also has races in the High Desert area near Bend and Mount Hood near Parkdale.
More information on the rides is available online at www.oregongravelgrinder.com.
More like this story
Latest stories
Latest video:
Mosier oil train fire
Clips from oil train fire in Mosier, Friday, June 3, 2016. by Mark B. Gibson/The Dalles Chronicle. Enlarge