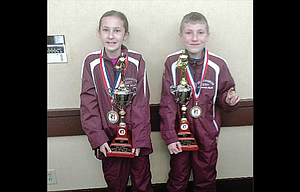 With the pressure rising, Maupin native Jason Hull stayed calm, cool and collected.
Hull sank 22 of 25 free throws to defeat Armani Smith, Chatz Dollente and Christian Cordona at the Elk's Northwest Regional finals held on March 11 at Clark College in Vancouver, Wash.
With the victory, Hull joins a group of 72 of the nation's best free throw shooters from ages 8-13 at the National finals on April 22 in Chicago, Ill.
In the 8-9 division, shooters start with 10 shots, then attempt 15 more to wrap up competition.
Up first was Dollente, from Puyallup, Wash., and he sinks a perfect 10 of 10 from the line, and Cordona, out of Caldwell, ID., dropped 7 of 10.
As the third participant in the order, Hull cans 9 of 10, but one was called off due to a foot fault, so he ends up at 8 for 10.
Smith, from Alaska, finishes the first heat with an 8 for 10 split.
Dollente capped his day 11 of 15 from the line for a 21 of 25 total, and Cardona followed up with a 13 for 15 effort to secure a tally of 20 for 25.
Hull misfired on his opening shot of the second round, but then made good on 14 consecutive attempts to ring in a finals-leading 22 of 25.
A win appeared within reach for Hull, but Smith was the lone roadblock.
Smith missed his first and fourth shots, and ends up at 10 for 15 to wind up at 18 of 25 and fourth place.
If Hull can continue his shooting dominance in Chicago, he not only claims a national championship, but will have his likeness on display on a plaque at the Naismith Memorial Basketball Hall of Fame in Springfield, Mass.
In the girls' bracket, Hull's older sister Julie competed against female shooters in the 10-11 classification.
Julie Hull made 6 of 10 in the first round and added a 10 for 15 performance in the second round for a total of 16 of 25 for third-place honors.
Second-place winner, Brianna Sanford, out of Fairbanks, AK., was 7 of 10 and 10-15 to score a 17 of 25, and Kaylin Koval, of Olympia, Wash., hit 2 of 10 and then 10 for 15 to end up with a 12 for 25 output.
Kamryn Pickford, from Coeur d'Alene, ID., hit her stride at 9 of 10 in the opening round, and tacked on 12 of 15 to wind up with a 21 for 25 effort to win her regional crown.
To send Jason Hull an e-greeting, local fans can log in to www.enf.elks.org/greetings before the cutoff date of April 12.
On April 22, Hull's progress can be viewed through the web at www.elks.org/hoopshoot.
More like this story
Latest stories
Latest video:
Mosier oil train fire
Clips from oil train fire in Mosier, Friday, June 3, 2016. by Mark B. Gibson/The Dalles Chronicle. Enlarge