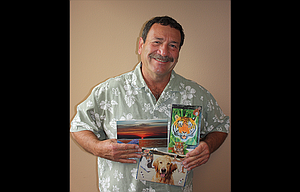 Clyde Sanda, a former interfaith chaplain at Heart of Hospice, will be at The Dalles/Wasco County Library on Thursday, April 6, from 1 to 3 p.m.
Sanda will be there to help people learn to deal with grief and loss, which he takes to an inclusive scale. He pointed out that grief can stem not only from the death of someone you are close to, but also from divorce, your kids or a best friend moving away, retirement, or a pet dying, for example.
"Especially as we get older, the losses outweigh the gains, and all losses need to be grieved," Sanda said.
He will be there under the auspices of the national "Soulcollage" movement, which employs a collage card-making process as a creative tool for self-exploration and self-acceptance.
"The cards provide a new way of looking at your life for insight, self-acceptance, and awareness of who you are," Sanda explained. "It's hands-on; I'm not into lecturing. And you will have the opportunity to explore the personal meaning of your card."
The public informational event is open for all ages, with all materials provided and no art experience necessary.
"The workshop is free, but donations are gratefully accepted," Sanda added.
More like this story
Latest stories
Latest video:
Mosier oil train fire
Clips from oil train fire in Mosier, Friday, June 3, 2016. by Mark B. Gibson/The Dalles Chronicle. Enlarge