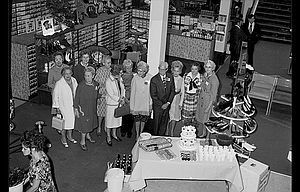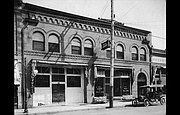 20 years ago – 1997
Teddy Rhodes, a ninth grader at Dufur High School, will have the kind of summer a lot of adults will envy. He will be leaving in June for a 16-day, seven-country tour of Europe as part of the Oregon Ambassadors of Music, a group of about 200 high schoolers. Rhodes was nominated to make the trip by Jon Holland, his music teacher in Dufur. He's played the flute for the past five years.
To donate or not to donate? That was the question facing The Dalles City Council Monday as it considered a request from the Discovery Center and Museum to donate the city's three covered wagons to the soon-to-open facility at Crate's Point. But when it came to actually voting to make the donation, questions arose and the process stalled.
Several sports groups Monday asked The Dalles City Council for $32,000 in motel tax money to irrigate athletic fields. But an answer to the request will have to wait.
40 years ago – 1977
C. C. Ryder, troubadour, will be presented by the Community Concert Association Monday at 8:15 p.m. at The Dalles High School Auditorium.
PORTLAND—If the federal government succeeds in barring illegal aliens the cherry crop may go unpicked, an Oregon cherry grower said Friday. "There just aren't enough people around who can and will pick," Walt Ericksen, The Dalles, told the Portland Chamber of Commerce Agriculture Committee. He also complained that the Border Patrol rounds up suspected illegal aliens without regard to their rights.
60 years ago – 1957
More than 100 attended the lecture on care of house plants Friday afternoon at the Civic Auditorium by Vernon A. Clarkson of the horticulture department of Oregon State college.
A state Senate bill sponsored by Ben Musa of The Dalles to permit any city or county to create and operate a museum has been passed by the Senate and now goes to the House for action, Musa reported by telephone this morning.
80 years ago – 1937
That The Dalles will reach actual status as a seaport some time early in 1938 appeared virtually certain today, following receipt of information from Washington, D. C., that appropriation of $2,380,000 for dredging the Columbia river between Vancouver, Wash., and Bonneville had been included in an omnibus bill by the house rivers and harbors committee. The channel appropriation was among $22,098,000 worth of rivers and harbors improvement projects approved by the committee.
CHICAGO, March 26. (UP) – World wheat prices today are at a 7-year peak because, in the opinion of traders and experts in the pit of the Chicago board of trade, "armies have to eat." One grain man put it this way: "most of the nations of Europe have armies at practically wartime strength. They eat more than they would in war, too, because dead soldiers don't eat. Because of that, the present mad scramble to accumulate foreign wheat has skyrocketed prices."
100 years ago – 1917
If the United States gets into the war, and there is little doubt about it now, men of The Dalles are going to be ready to serve their country! There are many young men and middle-aged citizens here who, while they do not care about joining the militia at the present time, are anxious to get training, along the line of the "citizens' training camps," so that they will be ready in case this country actually needs and calls for their services at some later time. J. W. Brewer, manager of the Chamber of Commerce, is the originator of the plan of forming a local citizens' company to go into training and become prepared to go to war if need be.
More like this story
Latest stories
Latest video:
Mosier oil train fire
Clips from oil train fire in Mosier, Friday, June 3, 2016. by Mark B. Gibson/The Dalles Chronicle. Enlarge