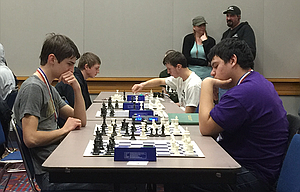 The Dalles High School freshman Noah Holloran tied for fourth place among all high school students in the individual competition at the state chess championship earlier this month in Portland.
He won three of his five matches, defeating junior Billie Tucker of Butte Falls High School, sophomore Andrei Kleshchev of South Eugene High School and senior Oscar Galdamez of Hermiston High School in earning his top-tier finish. He tied with five others.
Holloran's father, Michael, is the advisor for the middle school and high school chess teams. He said, "Noah played amazing, he was so patient and you could see his head bobbing as he was counting several moves in advance and looking at every possible outcome."
He said, "Noah was mature beyond his years; graciously laying his king down in defeat during one match when mathematics made it clear a mistake could not be overcome. It is so foreign to me to 'give up' before a game is finished, but these students don't see it that way; for them it is showing respect and honor to an opponent rather than dragging out the inevitable."
More than 900 students in kindergarten through 12th grade participated in the 50th anniversary Chess for Success state chess championships March 10-11 at the Oregon Convention Center.
Also in individual play, eighth-grader Nick Caracciolo of The Dalles Middle School won his final two matches to tie for sixth, with seven others, among all eighth-graders.
Eighth-grader Alex Gonzalez technically won two of his matches as well, but accidently shook hands for a draw on his final match when his opponent made it seem like they had no additional moves, Holloran said.
"Alex was a bit discouraged, but he is a great chess player and I am confident he will be back again next year, and one thing's for sure, he won't ever let that happen again," Holloran said.
Jacob Berkovich, a fifth- grader from Colonel Wright Elementary, lost to one of the top two fifth- graders in his first match but worked his way back up with one win and one draw to finish in a tie for 7th place among all fifth- graders.
Fourth grader Trace Larson of Dry Hollow Elementary won two of his five matches to finish in a tie for 6th among all fourth- graders. During the team competition on Friday, The Dalles Middle School team lost their first match to Stoller Middle School, the eventual first place winner, Holloran said.
"They were also narrowly defeated by Coquille Middle School in a match that came down to the wire and could have gone in either direction," Holloran said.
"The Wildcats didn't get discouraged though as all five team members won their next match and defeated the Heppner students 5-0 to earn their first point."
The team finished in sixth place.
"I was very proud of each of these kids," Holloran said. "For just about everyone on our team this was their first real experience with tough team competition and they handled the pressure like professionals. I am excited to see what they can do in the future." Of the competition, Holloran said, "The Dalles represented very well. Hopefully next year we can get more students and more schools involved and bring even more teams and players to the regional and state tournaments."
For more information or to get involved in your school please email Michael Holloran at holloran@gorge.net or go to www.chessforsuccess.org.
More like this story
Latest stories
Latest video:
Mosier oil train fire
Clips from oil train fire in Mosier, Friday, June 3, 2016. by Mark B. Gibson/The Dalles Chronicle. Enlarge