Wednesday, March 22, 2017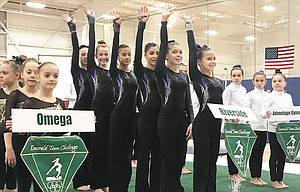 At practice, chalk fogged the air like mist off a river.
You could hear the friction on the uneven bars.
Leather grips twist, the wooden bar bends and gymnasts release into back tucks and lay outs. Feet hit the blue mats with a pop of dust.
Riverside Gymnastics Coach Mike Smith said they are building to peak.
"I never feel like I'm ready enough," said Audrey Hinatsu, 18, Riverside's sole level-10 competitor.
It's all or nothing.
And it's for all the marbles.
The cat eyes, the clearies, the boulders.
Riverside hopes to fill its bag with some big performances.
For Hinatsu, Ellie Cardosi, 13, and Krissy Carter, 15, levels 8, 9, 10 respectively, state can light their fuse for regionals in Boise.
And they hope to blow it up.
"At level 8, you just want to get better. You want to do what other competitors are doing," said Carter, who has placed top five all around in all of her meets.
"You're going to make it to regionals," Cardosi reassured her at practice.
Cardosi and Carter both grabbed the spotlight at a recent meet in Coeur d'Alene for their first-place performances on vault and floor.
Athletes, levels 6 through 10, have been honing their skills through a pressure cooker of five meets bubbling back to January.
"I just got my highest score on bars," said Nina Sanchez-Macias, age 13, level 6.
She has also taken several all-around first place finishes in Corvallis, Coeur d' Alene and Grand Mound, Wash.
Teammate Halle Haskins, 14, who elevated to level 6 this season and is mounting a comeback from a broken knee, said her floor routine is looking good.
Most recently, Riversides optional team competed at the Emerald Challenge in Eugene on March 4, 5.
"If you look at this meet as a benchmark, pretty much every kid has a real good reason to be happy with their performance," said coach Smith. "If you look at the team as a whole, it was the best meet of the season."
Back at the chalk box, Alexa Baldy, 14, was preparing for another round on the uneven bars.
"I know what I need to work on and know what I need to improve," she said.
Carter was hoping to raise a flag on behalf of her hometown.
"We mostly want to make the town of The Dalles really proud of us," she said.
Riverside Gymnastics Academy is a nonprofit with recreational and competitive programs for boys and girls.
For more information, go to www.riverside-gym.org or call the main office at 541-993-8625 or visit the gym at 2221 River Road in The Dalles.
More like this story
Latest stories
Latest video:
Mosier oil train fire
Clips from oil train fire in Mosier, Friday, June 3, 2016. by Mark B. Gibson/The Dalles Chronicle. Enlarge