Wednesday, March 22, 2017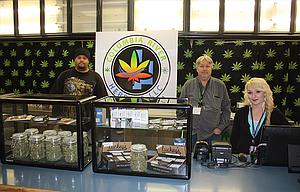 Just in time for the arrival of the first week of spring, a new business has sprouted up on the west end of The Dalles.
Columbia River Herbals, a retail outlet for medical-grade and recreational marijuana, has been working for several months to transform an empty and deteriorating former Arby's restaurant at 2630 W. Sixth Street into an active and thriving enterprise.
Last Friday, March 17, the store opened its doors to the public.
"It's been a long process," said Columbia River Herbals owner Norm Brock. "We started swinging hammers in early December, and the December weather didn't help at all. It's a relief to get it opened. It has been a lot of trials and tribulations, so getting this far has been a very major relief."
With the new store on West Sixth Street, Brock now operates two marijuana shops in The Dalles. His original location, which opened Sept. 1, 2015, is at 609 E. Second Street. That store will remain open and, as is the case with the new store, will sell both recreational and medical-grade marijuana products.
Late last year, Brock purchased the old restaurant building, which encompasses 2,300 square feet, and began renovating it so his business would have a presence at both ends of The Dalles.
"We think this will serve this area well," Brock said.
For now, Columbia River Herbals is engaged in what Brock calls a "soft opening," with reduced hours and a lesser inventory than is available at the downtown store.
"We need a couple weeks to work out the bugs and get the shelves filled," he explained. "We don't have full hours yet, and we're working with a limited staff. Staffing is an issue. People need to get their marijuana workers' permit. As long as they pass the test, we can go ahead and put them on the schedule."
During the soft opening period, the new shop will be open 11 a.m. to 6 p.m. every day of the week.
"Once we get past the soft opening, the hours at the new store will be from 10 a.m. to 8 p.m., Monday through Saturday, and 10 to 6 on Sundays," Brock said. "Once we get everything squared away, both stores will have the same hours."
Brock said he is planning for two days of grand opening festivities at the new shop on the weekend of April 8-9.
"We will have drawings for pipes and glassware, and we're thinking of having a food cart out there for those days, and some other events yet to be determined," he explained.
Brock pointed out that he is not concerned about reports the Trump administration may be planning a crackdown on marijuana sales.
"They've already opened the bottle to that Genie; they're not going to go back and do that," Brock said. "Trump's a businessman. When they see the green, he's not going to want to roll that back."
Between the two stores, Columbia River Herbals now has a total of 11 employees, and Brock plans to hire several more soon. There were nine employees before the new store opened.
"The big key is, we want to make sure we have people who have retail experience," he said.
Brock said he is satisfied with the initial response to the new location.
"The word is still getting out," he said. "It's not real busy, but more people are starting to trickle in. We've got it posted on Facebook and are handing out notices at our other store. The nice thing is seeing customers from the other store coming here. They've been waiting for this store to open."
To contact the new store, call 541-296-1656.
More like this story
Latest stories
Latest video:
Mosier oil train fire
Clips from oil train fire in Mosier, Friday, June 3, 2016. by Mark B. Gibson/The Dalles Chronicle. Enlarge