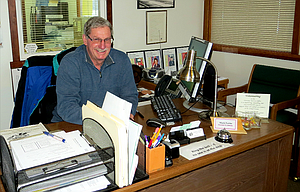 Mark Fortin, an Army veteran, started volunteering at the Wasco County Veterans' Service Office in the spring of 2016, and sees it as a way to help other military families.
He was an infantryman in Vietnam and decided to resume his service to country during his retirement years.
"This is the least I can do," he said.
He urges other area residents to do their part and donate time to the 201 Federal Street office.
"If we do the grunt work, then our service officers can work on claims —that's the name of the game," said Fortin.
Service Officer Russell Jones and his assistant, Patrick Wilbern, are seeking more volunteers due to the pending relocation of James and Janet Block, who have both dedicated a lot of time to the cause.
Currently, there are 18 volunteers, but that number is lower than needed, said Jones, since there is no paid office staff to answer phones, make appointments, advise veterans about the documents they will need to collect to speed up processing of claims for benefits or compensation.
"Having volunteers take those incoming calls for us allows us to focus on getting the paperwork done without a lot of interruptions," he said.
Not only is the office made more efficient by volunteers, it is more welcoming, according to Jones.
"There is somebody who is here because they want to serve veterans and their friendliness just gives the office a nice feel," he said.
Hot coffee is waiting when veterans enter, and there is often donated cookies or other snacks available.
"We get told quite frequently that this doesn't feel like a VA office," said Jones. People do not have to be veterans to volunteer, said Wilbern.
He said the opportunity is also a good way for "civilians" to show appreciation for the sacrifices of military families.
"You can pretty much work your own hours and pick the jobs that you are comfortable with," he said.
He said claims are often complex and take a lot of research, so it is nice to be able to focus on finding the necessary information instead of having to stop frequently to attend to other tasks.
By concentrating almost exclusively on preparing claims, Jones said the wait time for resolution of cases has dropped from 10.5 months in fiscal year 2014-15 to a current 4.67 months. The busiest days at the office are Monday and Tuesdays, when there are more walk-in clients and Jones and Russell are busy addressing their questions and gathering data to start a claim.
The two veterans — Jones served in the Navy and Wilbern in the Oregon National Guard — delve into complex appeal cases the remainder of the week and see clients by appointment only.
The city of The Dalles donates the building that houses the VSO and the county covers maintenance — as well as provides money for salaries.
In order to keep operational costs down so that Jones and Wilbern can work full-time, Jean Maxwell, wife and mother of veterans, agreed to recruit volunteers to fill secretarial duties.
New volunteers are subject to a criminal background check and receive training in confidentiality laws.
Volunteers who file and archive client records undergo even more thorough security screening.
Jones said volunteers provide nearly 300 hours of work every month. He said there are about 3,000 veterans in the county and making sure they receive the money they are owed for service pours millions into the local economy each year.
He said the active volunteer program has enabled 70 percent of area veterans to get successful resolutions to claims, as opposed to the national average of 45-50 percent.
"Our volunteers are the front line – Russell and I wouldn't be able to help as many veterans without them," said Wilbern.
Office hours are 9 a.m. to 5 p.m. weekdays with a closure from noon to 1 p.m. for lunch. People interested in signing up to be a volunteer can call 541-506-2502.
More like this story
Latest stories
Latest video:
Mosier oil train fire
Clips from oil train fire in Mosier, Friday, June 3, 2016. by Mark B. Gibson/The Dalles Chronicle. Enlarge