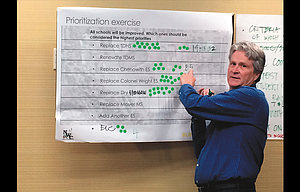 Replacing the high school is by far the top priority of a facilities committee studying replacing nearly all the schools in the district. Its second priority is replacing Chenowith Elementary.
Straw polling at a committee meeting Tuesday found that the remaining priorities, in order, were replacing Col. Wright Elementary, then Dry Hollow Elementary, then Mosier School, then creating an early learning center, and finally, building a fourth elementary school.
The 30-strong committee, which is always open to new members from the public, also created a set of criteria for how they would prioritize which building to replace first.
They included which one would impact the most students, which buildings cost the most to maintain and so should be replaced sooner (Dry Hollow and the high school are tied), and what buildings would help make the town more marketable if they were replaced sooner.
They also included criteria of replacing schools sooner that would have the most long-term impact on teaching and learning. At an earlier meeting, elementary principals suggested creating a district-wide early learning center for grades k-2 to give all students equal access to learning.
Studies show students who aren't fluent readers by third grade are not successful in school.
Another consideration was the timing of replacing buildings to minimize impact on the tax rate.
With five of its six schools in poor condition (except the middle school, built in 2004), the district plans to seek a 50-year bond authority, which would authorize the district, in a single vote, to levy a set dollar amount of taxes, over time, that would be enough to replace all the schools.
The committee has recommended placing the bond issue on the November ballot.
The school district is making the bond push now as it has sensed a renewed community interest in and support of schools, including the formation of several community groups focused on schools.
One concern raised was the effect on students who have to transition to perhaps temporary sites while construction is underway. The idea that a school has to be vacated while a new one is built nearby isn't necessarily true, said Richard Higgins of BLRB Architects, who is facilitating the committee meetings.
Several districts are replacing schools on the same parcel without displacing students.
And the order of which building will be replaced first may not even be on voters' minds.
Aaron Bowman, a new school board member, said all the people he's talked to "don't care what order schools go in, they want to know the (tax) rate and they want to know it now."
District Chief Financial Officer Randy Anderson will have specific numbers at the next meeting of the facilities committee, set for April 4. He said the maximum tax rate for the district now is $7.95 per $1,000 of real market value, which would generate a total bond revenue of $175 million to $180 million.
He said the district can authorize more bonds than it can currently issue, since expected growth in the tax base can be considered.
One committee member said, "My biggest concern as a committee member is how do we sell this huge bond?"
Orchardist Ken Bailey said he wasn't as interested in the order buildings were built, but felt the priority was deciding on a practical bond authority amount, and then creating a building package to fit that amount.
He also saw value in creating a single bond for multiple schools, since going out for bonds for individual schools could lead to people favoring one school over another and voting accordingly. "As soon as you pick a school, you've got more people against you than for you," Bailey said.
Higgins estimated the replacement cost of the buildings – plus upgrades to the middle school and building a fourth elementary school – at $158 million. That was only for construction and site development and didn't include soft costs like bond attorneys, contingency, permits and project management, which can add at least another 30 percent to the cost. The figure was also not adjusted for inflation.
Higgins said a next step could be forming master planning committees – one for each school – to help set the location and features of the school. Then, design advisory groups could help with the specific elements of the buildings. "What's the size of the teachers' lounge, that kind of detail," Higgins said.
School Board Member Ernie Blatz said discussion on designing the middle school also got detailed. "We spent three hours talking about a shade of green for one of the classrooms," he said.
With the district's poor experience with the building of the middle school – a flawed roof design meant it needed quick replacement – the idea of having citizen input into building design was a popular one.
Higgins said The Dalles has better participation in the facilities process than other communities of the same size. "You have great participation," he said.
Blatz cautioned the group about when contractors start using the term "value engineering," meaning doing things for the lowest cost. "If you start to hear that word, it's time to start paying attention to what you're doing."
District Superintendent Candy Armstrong said it was critical to decide upfront what the guiding principles are for a building, in terms of what the community feels is important that the building reflect.
In the middle school, the decision to utilize cutting edge technology actually backfired.
"Some of our systems were so advanced in our building, it's come back to haunt us very quickly," she said.
More like this story
Latest stories
Latest video:
Mosier oil train fire
Clips from oil train fire in Mosier, Friday, June 3, 2016. by Mark B. Gibson/The Dalles Chronicle. Enlarge