Wednesday, March 15, 2017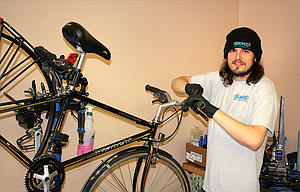 From the time he was a young kid growing up in The Dalles, Calvin Lepinski always had a passion for bicycles and bicycling. So, it was just a matter of time before he turned his love of cycling into a business.
On Feb. 15, Lepinski opened SPR Bicycle Shop at 408 Washington Street, and he already has a solid base of customer support.
That's because the bike business is not Lepinski's first entrepreneurial foray in The Dalles. In February 2012, he opened a business called "Scooter Performance Racing" (SPR) at the corner of West Sixth and Division streets in The Dalles.
"Repeat customers are my main customer base," Lepinski said. "In a small town like this, you have to have that."
The original SPR shop focused primarily on small engine repair and auto detailing, but Lepinski found himself doing a lot of bicycle repairs as well.
The repair shop on West Sixth was getting too cramped trying to tackle both missions, so he decided to divide the business to give his company more room to grow.
"I was doing bikes there and started seeing how much of a need there was," Lepinski explained. "People were really liking it, and it just kind of grew."
SPR Bicycle Shop offers all types of repair and maintenance work, and sells all types of equipment and accessories, such as seats, tires, gloves, bike racks, lights, mirrors, etc.
"This is just a full-blown bike shop," said Lepinski.
For now, SPR primarily sells used bikes, although Lepinski also can order new bikes for customers from an extensive catalog, and he plans to begin stocking new bikes by early summer.
Lepinski is something of a rarity for the downtown business district — he keeps his store open seven days a week, from 10 a.m. to 6 p.m.
He pointed out that weekends and holidays are when many people have more time to come in, and he wants to make sure he is open for them. According to Lepinski, he got involved in the world of bikes the same way a lot of people do —­ by enjoying biking as a youngster.
He was fascinated by bicycle moto-cross (BMX) at an early age, a sport in which people race and do stunts on their bikes.
"I was a BMX kid," he explained. "Dave Mirra was my idol. I started destroying bikes at about 12 or 13 years old."
The late Dave Mirra was an iconic BMX freestyle rider who, until 2013, won more medals than any other competitor at the X Games, a competitive series of extreme sports events.
The bikes are his first love, but he wants to hire someone to run his shop so he can go back and forth between the two businesses and help where he is most needed at any given time.
Born and raised in The Dalles, Lepinski said he would not consider moving his business to any other community.
"The Dalles is definitely where I want to be; it's not just where I am," he explained. "I've been everywhere, and this place is that much better than anywhere else.
"We're like a big city in the forest. The town is unmatched."
With the natural popularity of the Columbia River Gorge, and more trails being developed, plus the drier weather The Dalles enjoys, Lepinski believes bicycling will continue to gain in popularity.
He said SPS Bicycle Shop is poised to take advantage of an increased interest in cycling throughout the region. "It can only grow," he said. "I don't see myself going anywhere — except to a bigger location."
More like this story
Latest stories
Latest video:
Mosier oil train fire
Clips from oil train fire in Mosier, Friday, June 3, 2016. by Mark B. Gibson/The Dalles Chronicle. Enlarge