Wednesday, March 15, 2017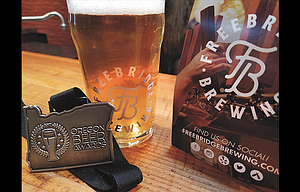 A brewery in The Dalles is batting one-for-one when it comes to winning an award in a competition for creating one of the best beers. Freebridge Brewing Company took a silver medal (second place) at the recent Oregon Beer Awards, hosted by Willamette Week in Portland. "It's our first competition and our first award," said Steve Light, co-owner of Freebridge Brewing. The winning beer was Freebridge's "Pulpit Rock Pilsner," and Light said pilsners are especially challenging to brew properly."
The pilsner category is a very difficult category to even get mentioned in," he explained.
"It's a classic German-style beer, and there is no room for any mistakes. And we went against some heavy competition," he said. Light said they sent in their beers for the contest in January, and the winners were announced on Feb. 28.
Freebridge Brewing, located at 710 E. Second Street, opened in January 2016.
Latest stories
Latest video:
Mosier oil train fire
Clips from oil train fire in Mosier, Friday, June 3, 2016. by Mark B. Gibson/The Dalles Chronicle. Enlarge