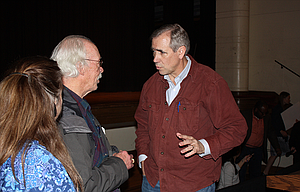 U.S. Sen. Jeff Merkley (D-Ore.) took the concept of town hall meetings literally into overdrive Saturday as he barnstormed across four counties — Wasco, Hood River, Sherman and Gilliam — to meet with constituents.
Merkley's day included public forums in The Dalles, Hood River, Rufus and Arlington as he continued his tradition of holding at least one town hall in every county of the state each year.
"Four town halls in one day is unusual," said Sara Hottman, state communications director for Merkley. "But the senator knows that people are eager to speak with their federal representatives, so Sen. Merkley wants to get out to as many counties as he can in a day."
Speaking to a crowd estimated at approximately 250 people in The Dalles High School auditorium, Merkley opened with comments on current topics of interest — in particular health care — before taking questions from the audience.
"I'm doing all I can to make sure we don't dismantle our health care laws, because health care touches on a tremendous number of lives," said Merkley, who was introduced to the audience by The Dalles Mayor Steve Lawrence.
Over the last six years since the Affordable Care Act went into effect, 500,000 Oregonians have gained access to health care. The goal is to have a health care system if you get ill and have peace of mind that you can get the coverage you need and not go bankrupt."
Merkley also addressed the controversial nomination of Betsy DeVos to be Secretary of Education, a nomination Merkley said he strongly opposed.
"Many of us thought that the person in charge of public education should actually know something about public education," he said.
Merkley said he was troubled about the failure of the Republican-led Senate to take up President Barack Obama's nomination to fill a vacancy on the U.S. Supreme Court. Obama nominated federal judge Merrick Garland in March of 2016, but the Senate simply refused to hold any hearings on the nomination until after the presidential election. Merkley said that set a terrible precedent.
"I believe we're on very bad grounds when, for the first time, we did not hold hearings or put the nomination on the floor," Merkley said. "It's as if the Senate put the empty Supreme Court seat in a time capsule, hoping it would be decided on with a more conservative president. That's not the way the process is supposed to work, and it attacks the integrity of the court."
When Merkley opened the floor to questions, the first question came from high school junior Lauren Jubitz.
"As a high school student preparing to enter the work force, what is your plan to keep the unemployment rate low and declining?" Jubitz asked.
Merkley said the loss of manufacturing jobs has hurt Oregon's economy, adding that he is hopeful President Donald Trump will follow through on his proposal to invest $1 trillion on infrastructure projects.
"A tremendous amount of infrastructure needs work, and the president has put forward a package, but there are no details yet," Merkley said. "This is an area where hopefully we can find bipartisan agreement."
Another questioner asked Merkley whether he believes there is Russian influence in the Trump administration. Merkley said he is concerned about the reports and believes they need to be actively pursued.
"I'm very, very concerned," he said. "There has to be a totally thorough investigation on potential campaign collusion with the Russians. If any Americans conspired with a foreign government to undermine our elections, that's treasonous conduct and we have to get to the bottom of it."
Amy Kaser of The Dalles questioned Merkley about the proposal by Trump to have a massive increase in defense spending.
She wondered where the money for the increase would come from.
"How can we fight to protect important programs from major cuts?" Kaser asked.
Merkley pointed out that Congress has leverage on the budget because spending bills have to be passed by Congress, but added he is worried the United States is slipping behind other advanced countries in health care, education, and infrastructure. Merkley said he would oppose making cuts in those areas in order to boost military spending.
"There is no proposal yet, so we don't know where the dollars will come from," Merkley said.
Roberta Cook of The Dalles said she is worried about the health of the planet.
"Will our great, great grandchildren have a world?" she asked. "I don't see our president as having any kind of long-term view."
Merkley pointed out that the rate of carbon monoxide in the atmosphere is accelerating and said environmental issues need to be treated with the seriousness they deserve.
"This is not a theory," Merkley said. "We see pine beetles thriving and fire seasons expanding, and oysters having trouble reproducing due to acidity of the oceans.
"In every state we see impacts. We have a responsibility to future generations to maintain a viable planet," Merkley said.
Merkley added that he believes there should be no new leases for extraction of gas, oil or coal, and proposed that the nation set a goal of using only clean energy by 2050.
Another citizen asked Merkley about Trump's immigration politics, such as banning immigration from entire countries. Merkley said he does not agree with the current approach.
"A federal ban on Muslims is totally out of sync with freedom of religion," Merkley said. "When any individual group is attacked, let's stand shoulder to shoulder with those people. There is so much strength in our diversity."
Marilyn Hooks said she is worried about the direction of the nation.
"For the first time in my adult life I have been frightened by our government," Hooks said.
"I'm counting on leaders like you to help us. I'm especially concerned about what I'm seeing in our immigrant community."
Merkley responded that recent marches and demonstrations in the wake of some of Trump's immigration orders have made a big impact.
"This has sent shock waves through the Republicans," Merkley said. "People are upset, and the mass protest has had a valuable impact. When members of the public are not engaged, bad things happen."
Merkley added that he has been especially apprehensive about President Trump's attacks on the news media.
"One thing I'm concerned about is the tearing down of the legitimacy of the press." Merkley explained. "It's an authoritarian impulse to tear down the press. We need the press as a counterbalance, so there can be serious vetting of information."
Hottman said citizens at all four town halls on Saturday wanted to talk about many of the same issues.
"The primary topics of concern for all four town halls were health care and immigration," Hottman said.
"People from Hood River to Arlington are very concerned about the harm an ACA rollback would cause their families, and the harm of deporting workers — who are in the country illegally but haven't committed any crimes — would cause their businesses and communities," Hottman added.
Latest stories
Latest video:
Mosier oil train fire
Clips from oil train fire in Mosier, Friday, June 3, 2016. by Mark B. Gibson/The Dalles Chronicle. Enlarge