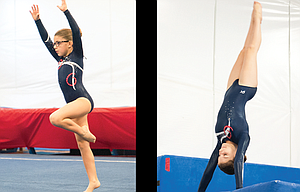 All 85,000 square feet of the Merrit Truax Indoor Center could hardly contain the enthusiasm of the gymnasts from The Dalles.
A setting of particular excitement was the vault runway, where the team raced, hurdled, and soared upward with pointed toes—nailing their vaults.
"The level 3 girls all scored nine or above on vault, and their excitement was contagious," Coach Stacey Brown said. "Every time another score would be posted they would celebrate with their teammates. It really was fun to watch."
Undoubtedly it was also fun to do, as Emma Wolf, who had her highest-scoring meet yet, could confirm.
"One of my highlights was that I got my highest score on bars, vault, and all-around," Wolf stated. "The event I have improved on the most is probably bars."
With a score of 9.4 and first place in the event, her progress was indeed impressive.
Teammate McKenna Strain cited beam as her greatest area of improvement.
She scored 9.3 in the event — and 9-plus in every other event — giving her a total score of 37.15, and the honor of all-around champion.
Strain was joined by teammates Brooke Awmiller, Mia Byers and Regina Sanchez Macias in claiming first-place all-around.
"I got all nines and my highest all-around," Byers said.
The achievement didn't come easily for Byers, who is performing more difficult skills this season.
"I'm doing high mat on vault, and my kip on bars," she explained.
Other highlights for Riverside included a whopping 21 first-place awards in individual events.

On vault, the honors went to Brianna Adams, Mia Byers, Gigi Hiser, Bailey Jenkinson and McKenna Strain.
Bars champions were Brooke Awmiller, Saige Brennan, Taylor Cummins, Finley Jenkinson and Emma Wolf.
Winners on beam were Brooke Awmiller, Alexa Baldy, Annika Baumgarten, Mia Byers, Bailey Jenkinson and Ashley Quisenberry.
Floor champs were Brooke Awmiller, Mia Byers, Halle Haskins, Emily Liberidhs and Regina Sanchez Macias.
Throughout the day, Coach Stacey Brown had a suspicion that things were going well.
"I often don't know scores because I'm busy preparing the next competitor," she said. "But the girls were buzzing with excitement and I knew they were having a great meet and scoring many personal bests!"
Those "bests" added up. The Level 6 team came in third place at the meet, the Level 5 team claimed second, and the Level 3 team took home first, making it a big day for Riverside.
Riverside Gymnastics is a nonprofit organization with recreational and competitive programs for boys and girls.
For more information, go to www.riverside-gym.org or call 541-993-8625 or visit the gym at 2221 River Road, The Dalles.
More like this story
Latest stories
Latest video:
Mosier oil train fire
Clips from oil train fire in Mosier, Friday, June 3, 2016. by Mark B. Gibson/The Dalles Chronicle. Enlarge