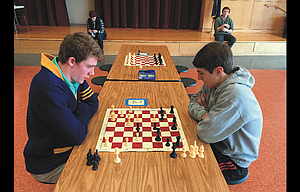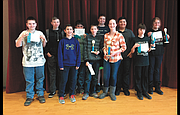 Seven individuals and a team are advancing to the state chess tournament in Portland next weekend after strong finishes at a regional competition held Feb. 25 at The Dalles Middle School.
The Chess for Success regional tournament draws students in grades k-12 from throughout the region, including schools from Wasco, Sherman, Hood River and Gilliam counties.
The Dalles Middle School team qualified for state and will be attending the state tournament at the Portland Convention Center on Friday, March 10, said Michael Holloran, advisor for the chess players at the middle school and high school.
Individuals qualifying for the state tournament include The Dalles middle schoolers Nick Caracciolo, who won all five of his matches on Saturday, and Alex Gonzalez, who won four of his five matches. Both are eighth-graders.
Zora Richardson, a seventh grader at the middle school, qualified for individual competition and will also play on the middle school team.
Fifth-grader Jacob Birkovich, from Col. Wright Elementary, who won four of his five matches, and fourth-grader Trace Larson, from Dry Hollow Elementary, who won all five of his matches, will be representing their schools as individuals in competition on March 12.
Also qualifying for the state tournament at the individual level were The Dalles High School freshmen Noah Holloran and Ayden Orion. Their tournament will be a full two days on Friday March 10, and Saturday, March 11.
The middle school team members going to state are: Caracciolo, Gonzalez, Richardson, Harley Dine and Donavan Hampton. Other members of the team are Tyler Wachli, Brad Lopez, Dylan Jones, Harmon Whipple and Elizabeth Lugauer.
"At regionals each team can bring 10 people but only the top five scores are counted," Holloran said. "At state you compete all at once as a team of five at the same table against another team of five. You can bring alternates and substitute in each match, but we are going to have the same five compete in all five rounds."
Holloran lauded Kurt Evans for a crucial assist at the regional tournament. "He voluntarily went back home and got a laptop computer because my computer wouldn't print. He was awesome, huge shout out to him."
More like this story
Latest stories
Latest video:
Mosier oil train fire
Clips from oil train fire in Mosier, Friday, June 3, 2016. by Mark B. Gibson/The Dalles Chronicle. Enlarge