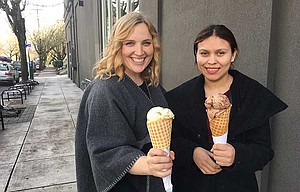 Manuela Garcia Flores, a 2015 graduate of The Dalles High School, has not one, but two jobs, and hopes to have her own car and home someday.
As a graduate with disabilities, her ambition and accomplishments are singular, and she was recently recognized for that by being named the Outstanding Student of the Year at the Oregon Statewide Transition Conference, held Feb. 16-17 in Portland.
School-based transition programs help prepare special education students for life after high school, specifically employment, or career-related post-secondary education.
Yvonne Wheeler is the North Wasco County School District 21's transition program specialist.
Seeing Garcia Flores accept her award at the recent ceremony was "awesome," Wheeler said. "The awards ceremony was beautiful. She received a standing ovation. I think she was truly in shock, it was truly a Cinderella moment for her."
She said, "She did have a speech, but in the video [of the ceremony] she is just overcome with tears and emotion of what's happening."
Wheeler whispered to her to say thank you, and that's what she did.
Wheeler works with 12 to 13 youth per year, finding what interests them and guiding them in that direction.
She met Garcia Flores in 2015 after a special ed teacher had mentioned the young woman, now 21, was highly motivated to find work.
"I immediately saw a drive within this young lady and I knew I wanted to work with her and that started our journey together," Wheeler said. "She decided to map out her own life and she decided to take full advantage of everything the program had to offer, like going to camp, working with a transition specialist."
Garcia Flores had expressed an interest in child care, so they brainstormed ideas."She has some previous childcare experience and we built on that." She reached out to the local Head Start program, and program director Rhonda Hull offered her an unpaid internship, which turned into a paid job.
She is an on-call substitute teacher's aide. "She walks to work, she's always on time, very dependable."
Wheeler forwarded some questions from a reporter to Flores Garcia, who said of learning she had a job at Head Start, "It was great! I was really happy."
She said Wheeler helped her through the transition program by getting her ready for interviews and providing transportation.
At Head Start the little kids "love her and so do her co-workers," Wheeler said. When Hull was told of Garcia Flores's award, Hull wrote to Wheeler that "Manuela is excellent with the children and has been able to help tremendously at Head Start."
Garcia Flores is also bilingual, Wheeler said. "Very smart young lady, you have to get to know her to see it shines through.
"She has blown us away, she really has. She's so humble at the same time."
"She went out on her own and applied for a second job at Grocery Outlet and at a quick interview process she was given a spot on their team," Wheeler said.
Garcia Flores said of her two jobs, "At Head Start, I really enjoy having fun with the kids and helping them learn new things. At Grocery Outlet, I often see people I know and I'm able to smile and say hello."
Garcia Flores's wages are not government-subsidized, Wheeler said. She's "working for equal pay, working amongst people who are disabled, non-disabled. She's just like everyone else."
Wheeler said, "Every internship, job shadow and job placement is chosen specifically with the students' strengths and interests in mind.
"An integral part of the Youth Transition Program is community partnerships. The program is incredibly successful, thanks to such strong support from the community. I'm thrilled to say that I've placed many YTP participants with businesses throughout The Dalles."
She added, "We have so many wonderful stories of kids excelling with the support they need."
She said the transition program exists first to help students with disabilities gain employment or continue their education after high school. The second function is "just to create systems of change, to increase capacity, to create awareness within the community and to again make sure that services are being reached and youth are getting access to the services that they need in the community."
She said students in the program commonly have learning disabilities, which can lead to confidence issues. "So a [job] interview is terrifying so I come along and prepare them for that. They've done the groundwork, they've prepared themselves for it, they are no longer nervous or insecure because they've done it so many times in our office."
Wheeler said, "We believe that the last day of high school shouldn't be a difficult thing for them, it should be a seamless transition where we have laid the groundwork for community involvement; they have gainful employment, they're involved with the community and they have a wonderful life ahead of them." Of Garcia Flores, Wheeler said, 'it's amazing to see the transformation from 2015. She has confidence, she knows that she's smart, she knows that she's going places, she knows that she has the support to get there."
More like this story
Latest stories
Latest video:
Mosier oil train fire
Clips from oil train fire in Mosier, Friday, June 3, 2016. by Mark B. Gibson/The Dalles Chronicle. Enlarge