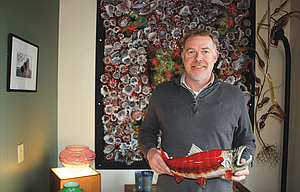 Later this month, Nichols Art Glass will begin undergoing a transformation as owner Andy Nichols guides his artistic glass-blowing business down a slightly different channel.
Nichols, who has operated out of a small studio at 912 W. Sixth Street in The Dalles since 2001, plans to temporarily close the business soon to remodel the space and reorient the creative direction of his artwork.
"The remodeling will start probably in the middle of March, and it might take a couple months," he said.
Nichols plans to cover the windows and keep his shop closed to the public during the renovations. When completed, the art gallery at the front of his shop will be smaller, while the studio area will be expanded. Nichols also envisions turning one of the large front windows into a colorful display box that will be lit up at night.
Currently, Nichols Art Glass is open Wednesday through Sunday from 10 a.m. until 6 p.m. After the renovations, however, the store will still be accessible to the public, but not as often. Once the makeover is finished, the gallery will switch to being open by appointment only.
Nichols said there is a practical reason for the alterations he plans to make, as well as a reorientation of his creative goals.
"I have more kilns now, and the equipment is getting all jammed up," he said. "And there has been an evolution of the products I make."
Nichols said the variety of designs he has been creating has spread his efforts too thin at a time when he wants to focus increasingly on the glass-blowing design he is most passionate about: fish.
"I've always had fish in a tank, used to do scuba diving, and even considered going into oceanography, and I thought it would be fun to make fish," he said. "I love doing fish, and there are not too many glass-blowers who make fish, in the Northwest especially."
Nichols recalled some advice he received when he was first getting started working full-time as an artist. The advice was simple: "Focus on one thing and do it better than anyone else, and market it to the world," he was told.
It's a lesson he is now taking to heart.
"To get better, I need to focus on fish," he explained. "I'm to the point where fish sales are super strong, and I can never make enough to supply all my customers."
Several galleries around the West are selling Nichols' glass artwork, including in Portland, the Oregon coast, Montana, and at several sites in Canada. Demand is high.
"Over the last couple of years, I've never been able to supply fish throughout the year as much as they want them," Nichols said, adding that he works 50 to 60 hours a week and typically produces "two fish a day, three days a week."
Although it won't be the same as it is now, Nichols said he would like to retain some type of viewing area where people might be able to observe him molding and shaping glass.
"I still want people to be able to watch, but I just won't have public hours," he explained. "Most people in town know me as a friendly guy, and people want to come in and watch and I still like that. Yet I have limited time, and need to focus on the bigger picture."
One "big picture" project he wants to concentrate on is an elaborate fish chandelier he's been asked to make for a new lodge being built in the Tri-Cities area. And he is gearing up for an April show at The Dalles Art Center.
Although for most of the year Nichols will be limiting the hours customers can come into his studio, he said one longtime public tradition will remain.
"For seven years, kids and families have come in and blown their own Christmas ornaments, and I'm still going to do that," he said. "We'll start the Friday after Thanksgiving and go until New Year's Day."
More like this story
Latest stories
Latest video:
Mosier oil train fire
Clips from oil train fire in Mosier, Friday, June 3, 2016. by Mark B. Gibson/The Dalles Chronicle. Enlarge