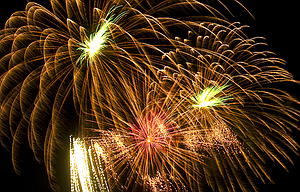 The daylong, fourth annual Fort Dalles Fourth Festival is set for Saturday, July 1, starting at 7 a.m. with the Rocket Run and ending at 10:10 p.m. with Oregon's largest fireworks display.
After the Rocket Run, breakfast is available at Lewis and Clark Festival Park, with a $5 suggested donation. That is followed by yoga, with a $2 suggested donation, and then the parade, which begins at 10 a.m.
From 11 a.m. to 2 p.m. will be the Family Funzone, with a $2 suggested donation.
The park closes at 2 p.m. to prepare for the evening concert, featuring country duo "Love & Theft." Doors open at 5 p.m., with opening bands taking the stage at 6 p.m. Openers are "Kelsey Bales & the Sons of the Storm" and the "Jessie Leigh Band." At 10 p.m., there will be a fireworks display and the National Anthem sung by Tracy Klas.
"Love and Theft," made up of Stephen Barker Liles and Eric Gunderson, will perform their No. 1 country song, "Angel Eyes," and numerous other top 10 and top 40 hits, including, "Runaway," "Running out of Air," "Night You'll Never Forget," "If You Ever Get Lonely," "Whiskey on my Breath," and their new single, "Love Wins."
This is an all ages show, with 10 and under admitted free to the general admissions section with adult supervision.
New this year is reserved seating for the concert, with the fireworks display starting immediately afterwards. There will also be an official afterparty at Route 30 Bottles and Brews, at 317 E. Second Street.
For tickets, visit, www.eventbrite.com.
The event, put on by The Dalles Main Street Program, asks that no outside food or beverages be brought in, or fireworks, high back lounge chairs, umbrellas, or anything else that might disrupt views of other guests.
Visibly intoxicated people will not be admitted into the park and no marijuana use will be allowed. Violators will be removed.
Families wanting a good place to view the fireworks are welcome to join the Community Block Party Saturday from 8 to 10:30 p.m. at the Harvest Foursquare Church, 2500 Old Dufur Road.
The parking lot of the church will be open to all visitors, who are urged to bring blankets and lawn chairs, as well as snacks and beverages to share.
Free hot dogs will be served and there will be yard games available for children.
The Barlow Gate Grange hosts its annual weekend breakfast to celebrate the Independence Day anniversary on Saturday and Sunday, July 1 and 2.
Volunteers will serve a meal from 7:30 to 11 a.m. that includes hotcakes, eggs, ham, sausage, hash browns, homemade biscuits and gravy, coffee and juice.
Cost is $8 for adults and $5 for children, ages 6 to 10. Veterans with identification can enjoy a heaping plate of food for $4.
Proceeds from the event are used to cover operating costs so people can use the grange at 56960 Wamic Market Road for large gatherings at no charge.
Last year, about 700 people ate breakfast in the historic building that has was given a facelift and renovated to fulfill its role as a social hub and a public meeting place.
More like this story
Latest stories
Latest video:
Mosier oil train fire
Clips from oil train fire in Mosier, Friday, June 3, 2016. by Mark B. Gibson/The Dalles Chronicle. Enlarge