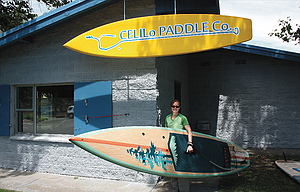 Paddleboarding is a sport that has been growing, and now it has taken root in The Dalles.
On May 27, co-owners Kevin and Sherry Perry opened Celilo Paddle Company in Riverfront Park because they wanted to share their love of paddleboarding, which involves standing, lying or kneeling on a paddleboard and navigating with a kayak-style paddle.
"Kevin is a paddle enthusiast," explained Sherry. "He took up paddling a couple years ago, and lost about 40 pounds. We like to do paddleboarding as a family on the Columbia River, and we've gone to places like Lost Lake. Riverfront Park is an amazing park to do this in."
The Perry's love of the sport made them want to share it, and their chance came after they moved from the Seattle area to The Dalles in 2014.
"We were looking to get out of the big city and the hubbub of Seattle," Sherry said. "We fell in love with the Gorge, and we wanted to really bring this opportunity to the community."
So far, the response has been encouraging for the fledgling family business.
"There wasn't anything like it in The Dalles," said Sherry, who handles the rentals from a small brick office on the north side of the park. "This sport is growing a lot and becoming really popular."
Celilo Paddle Company is open from 8 a.m. to 6 p.m. Monday through Saturday, and on Sundays from 11 a.m. to 6 p.m.
The business rents paddleboards primarily, but also has a couple of kayaks for those who seek a different experience on the river. Kayaks and paddleboards alike rent for $20 an hour, and there are a variety of other options available, including renting a paddleboard all day for $75.
"One of the biggest things we like is the diversity of the business," Sherry said. "Some people want to spend the time leisurely and others want exercise; some want to be alone and some want to be in groups."
Celilo Paddle Company also hosts an "Early Bird Paddle" event every Thursday beginning at 5:45 a.m.
"It's a group paddle," Sherry said, adding that often the paddlers go out to some of the nearby islands in the part of the river near the park. "The islands out there are really interesting."
Paddleboarding does have one limitation to it, however, and that is a natural one regarding the weather.
When the winds turn much chillier and the rains come in September, the business will be closing its doors for the season.
"We'll close when the park closes around Labor Day," Sherry said, "and will reopen around Memorial Day next year."
For now, however, it's still hot summertime in The Dalles. So, to start your adventure on the water, call Celilo Paddle Company at 541-705-0701.
More like this story
Latest stories
Latest video:
Mosier oil train fire
Clips from oil train fire in Mosier, Friday, June 3, 2016. by Mark B. Gibson/The Dalles Chronicle. Enlarge