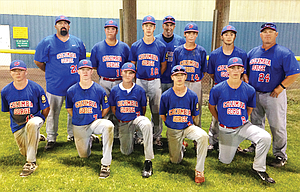 When looking at his young roster, Columbia Gorge 'A' Hustler coach Steve Sugg is not worried about wins and losses, but about player development.
Through 16 games, he sees the potential for these athletes to accomplish great things in the future.
"We want them to progress, gain confidence and learn about the importance of competing on a daily basis," Sugg said. "We are looking at a bunch of different pitchers, we are working on getting our offense improved and we are putting guys in different positions to test out versatility. We are teaching them the game so they know situations better and they can execute in those areas. Right now, I am seeing some good things."
Following a pair of non-league losses to Orofino, Idaho in a twinbill played at Bob Williams Field Friday night, the Hustlers have a 7-9 overall record and are 1-2 in league action.
Sugg has called upon Mike Armstrong Sr. and Dean Dollarhide to help with the teaching process, so that every player can be better equipped to handle the rigors of the varsity game.
Coming off an injury-plagued spring campaign, Colton Baughn is happy to be on the field with his teammates, working on a long-term goal of success.
He is also glad to be learning the game from a Hall of Fame coach like Sugg.
"Coach Sugg just prepares us well," Baughn said. "He stresses working hard. He wants us all executing on the fundamentals of the game and doing things the right way. We still have to work on some things, but we are getting there. I feel that we can be a very good ballclub, but we have to work on all those things for that to happen."
On the 'A' roster along with Baughn are David Wring, Mac Abbas, Josh Johnson, Ben Schanno, Michael Armstrong, Trenton Schacher, Dominic Smith, Connor Baughn, Dalles Seufalemua, Ben Nelson, Jose Gonzalez, Caden Cummings and Baily Hajicek.
Coming off a breakout junior varsity season, Hajicek is using the extra repetitions to possibly earn the right to hit the varsity scene next year.
He did admit, however, that his goal is to get stronger and faster to make himself more of a weapon.
"I like having Sugg here because he is definitely helping us all with our game," Hajicek said. "It is nice to know what he expects of us. He is upfront and he does his best to put us in the right position to have success. He wants us to grow as players so we can contribute to varsity next year. I feel that with all of us playing now, we are headed in the right direction."
With 23 players making up the 'AAA' and 'A' lineups, Sugg said the athletes that are on the field are quickly jumping up the depth chart.
The summer work will create position battles.
"These young guys, I think two years from now, when they are upperclassmen, if they stick with it and continue playing in the spring and summer, they will be competing for varsity spots," Sugg said. "There are some guys that decided not to play ball this summer that might think they have positions locked up, but the guys that are playing summer ball are going to pass them by. In a couple of years, we are going to be two-to-three deep at every position. As a coach, that is what you want for the program."
The 'A' Hustlers have a week off before heading to Vancouver, Wash. for a three-day tournament, starting on July 1.
Sugg is looking forward to this group finishing a high note.
"There is a lot going on with basketball camps and football camps and practices, so some guys are kind of hitting a lull," Sugg said. "A lot is being asked of them, but I know the guys that want to be here and compete, will find that drive to get more accomplished as the year goes on."
---
In opening-round play at the Oregon Coast Invitational in Newport, the Columbia Gorge 'AAA' Hustlers were held to one hit in a 10-0 mercy-ruled loss to the Mid-Coast Dungies Friday in American Legion baseball action in Newport.
Jordan Wetmore posted the team's lone hit, both Jacob Wetmore and Dylon Jinkins were issued walks, and the duo of Johnny Miller and Ben Nelson reached base on hit by pitches, as the Hustlers stranded four runners.
The pitching staff of Jose Gonzalez, Jinkins and Justin Sargeant saw time on the mound, with Gonzalez finishing one inning.
After tournament play this weekend, the 'AAA' Hustlers (1-3) host Showtime for two games starting at 6 p.m. on Wednesday.
More like this story
Latest stories
Latest video:
Mosier oil train fire
Clips from oil train fire in Mosier, Friday, June 3, 2016. by Mark B. Gibson/The Dalles Chronicle. Enlarge