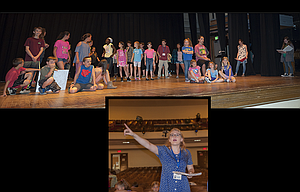 A host of local children have been working onstage at The Dalles High School since being selected Monday for a part in the Missoula Children's Theatre production of "Peter and Wendy," which opens for audiences tomorrow, June 24.
"They audition on Monday, the show is on Saturday, complete with lights, sets and costumes," Devon Johnson said, one of the tour directors.
"We come looking for a wonderful cast, which we've found right here in The Dalles." Not surprising, perhaps, as The Dalles has hosted Missoula Children's Theatre for 30 or more years.
The young actors have spent the week learning their lines and songs, developing their characters and working out stage directions as they prepare for Saturday's performances at 2 and 7 p.m.
Missoula Children's Theatre is a professional, nonprofit company with 41 teams of two directors currently traveling throughout all 50 states and 17 countries this year.
Cassandra Lampen, working as off-stage director for The Dalles production, said offering a theatre experience, even a short one, is important. "Kids get to experience being able to express themselves.
"They are so often asked to sit still and be quiet. Here, they can be whatever they want."
Johnson agreed. "Imagination is important, we get to keep their imagination alive. They learn social skills, creative and critical
thinking, teamwork. Especially teamwork. It takes everyone to put on a
production like this."
The directors benefit as well, he said. "Every cast is unique. We get to see different takes on the characters and stories. It's a delight — we have the best job ever."
Lampen and Johnson are both visiting Oregon, and The Dalles, for the first time, and expressed appreciation for the beauty of the area. Lampen, from Missouri, was especially amazed.
"I've never seen, like, mountains before. We have hills in Missouri, but not like this, with 'falling rocks' warning signs and '6% grade' signs. It's amazing," he said.
The people are great as well, she added. The visiting team is hosted locally by members of The Dalles Theatre Company, Lampen said every community member that she has met has been very welcoming and friendly.
From The Dalles, the team will travel to Washington (with a visit to Portland on the way) and then south to California, where they will finish the summer.
This year's performers are Tate Hattenhauer as Peter Pan; Olivia Prado as Tinker Bell; Annah Cox and Wendy Darling; Faith Gouge as John Darling; Rowan Bierwirth as Shadow; Noble Williams as Hook; Katie Beal as Mrs. Darling; Reece Keizur and Mr. Darling; Flora Gibson as Nana; Makayla Levine as Liza; Moyra Dorzab as Tiger Lily; Austen Manciu as Crocodile; Lyris Voodre-Grover as Petey; Conor Blair, Lily Cannon, India Hargrave, Brenden Manciu, Lewis Schreffler, Luke Schreffler, Saige Thompson and Katelyn Vassar as Lost Boys; Amira Richardson, Evelyn Rogers, Sofia Rogers and Sohalia Witkowski as Neverlanders; Lanie Dirks, Serene Gooch, Rhett Loughmiller, Jeilane Stewart and Olivia Witkowski as Neverland Creatures; Kate Cannon, Makenna Cramblett, Flora Crouch, Arwen Dorzab, Anneliese Richardson and Tori Thompson as Pirates; Reid Brookins, Abby Cannon, Addison Carder, Adalee Cox, Rory Dorzab, Rozlyn Elliott, Marley Ervin, Vivian Ervin, Salma Ladkani, Allison Nerdin, Max Thompson and Moses Witkowski as Clouds.
Assistant directors are Olivia Dulaney and Chloe Taylor. Accompanist is Tatyana Gouge.

"Peter and Wendy" was conceived and written by Michael McGill, who also wrote the music and lyrics.
More like this story
Latest stories
Latest video:
Mosier oil train fire
Clips from oil train fire in Mosier, Friday, June 3, 2016. by Mark B. Gibson/The Dalles Chronicle. Enlarge