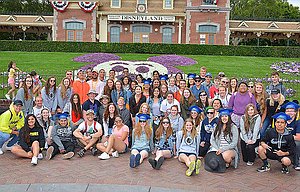 Very early on the morning after high school graduation, 66 members of The Dalles High School Class of 2017 headed to Disneyland for two days in the park, a visit organizers pronounced a solid success.
Senior parent Kim Cowan headed the effort, and said the trip was "awesome, it was great. We didn't have any issues and everybody had a good time."
The only downside that chaperone and senior trip treasurer Cindy Pielli encountered was that phones were dying because graduates were taking so many pictures, including photos sent to chaperones to account for their whereabouts during regular check-ins.
Cowan said flight staff commended the graduates as the best behaved student group they'd ever had. She allowed that was likely due to them being tired.
The class of 2017 not only had a senior trip to Disneyland, but also a senior party, attended by 71 students, for those who didn't want to make the trip. Twenty-five students did both the party and Disney. And even students who didn't go to the all-night class party seemed to get little sleep, Cowan said.
"It was actually delightful," Cowan said of the trip. "The only thing is we're exhausted."
Pielli said, "I think it went very smoothly considering we had 66 of them; that's a lot."
As soon as the graduates arrived at their motel, they ditched their bags in a holding area and headed across the street to the theme park.
The only semi-glitch of the trip came when students went to the holding area to retrieve their bags when their rooms became available at 4 p.m. that day. The Associated Student Body gave each of the graduates an identical bag, and 45 of the students had used the bag for their carry-on luggage, and it became an issue to find out whose bag was whose.
All the students complied with the 1 a.m. curfew — the park closes at midnight — and the 10 chaperones for the 66 students had graduates check in with them by taking a different type of picture every time, so they couldn't submit an old photo.
The chaperones paid their own way for the trip.
Cowan saw a post on one of the graduate's Facebook pages that she screenshotted and sent to the chaperones as a pick-me-up, letting them know the long, tiring days were worth it.
The student wrote, "childhood dreams came true, an amazing experience never to be forgotten."
Cowan, who loves Disneyland and visits three times a year, came up with the idea of a Disney visit. "I would never do it again, but it was cool," she said. "It was a lot more work than I anticipated, not in a bad way."
The trip had higher fundraising expectations than past senior parties. The annual fundraiser is selling bags of chocolate covered cherries and blueberries. While past requirements to attend the party called for selling 30 bags per student, the trip required selling 100 bags.
Students who did both party and trip sold 130 bags. Some students who oversold donated their bags to others, and some families simply paid cash toward the trip.
In all, the senior class sold over $100,000 worth of cherries, and cleared about $64,000 for the trip and the senior party.
"When we added it up, we were like, no way!" recounted Cowan of when they learned how much they had sold. "But it was cool because it showed the community was supporting our youth."
New with this class was the idea of selling cherries to tourists coming off the cruise ships. The summer heat proved to be a challenge, as well as getting the right timing for the schedule of the passengers as they left the ship.
"The cruise ship thing is good to explore, but it's figuring out the schedule and the weather conditions, because the heat can kill you, especially with chocolate," Cowan said.
Direct sales to cruise ship passengers ended up not being as much as organizers anticipated.
However, sales throughout the community proved critical, and many businesses helped by having baskets of cherries and blueberries for sale in their stores.
Initial plans called for students to provide $150 of their own money for food, but organizers had a goal – and achieved it – of raising enough money to cover even that $150 cost.
Pielli said students sold the cherries on 47 occasions at Fred Meyer and Safeway.
It required a lot of effort to make it happen, Pielli said, "but all parents worked hard to have the best graduation party and trip for the students who wanted to participate."
There were hard feelings in early days, when some parents felt the Disney trip was out of reach of some students, or some families just didn't want their student traveling. Those parents decided to offer a local senior party as an alternative, and the two parent groups were able to work out differences and work well together.
"We all clicked into gear that we've got to work for the students," Pielli said. "It was about the students, it was not about the parents, and that's what we did."
It was also difficult to get timing down with the buses that were taking the cruise tourists to various locations, she said.
More like this story
Latest stories
Latest video:
Mosier oil train fire
Clips from oil train fire in Mosier, Friday, June 3, 2016. by Mark B. Gibson/The Dalles Chronicle. Enlarge