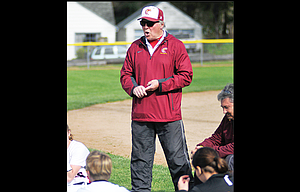 As he walks away from a successful softball coaching journey, Steve Garrett can feel satisfied with what he accomplished over his 13 years.
He has coached multiple all-league and all-state athletes, many who have made the collegiate jump, won Coach of the Year awards, league titles, clinched a playoff berth in all but one season, helped lead his teams to 20 wins or more six times and won 233 of 369 games for a .631 winning percentage.
"I am extremely proud of what we were able to do here in this softball program," Garrett said. "It was a combination of having great players, great kids and supportive parents and everyone pulling in the same direction all these years. Everything we have accomplished was due to a team effort. When you have that leading the way, success follows. This run has been an absolute joy to be a part of."
Of his four league titles, three came while The Dalles was in the eight-team Intermountain Conference, while playing against teams from Pendleton, Summit, Mountain View, Bend and Madras, to name a few, as he posted a 139-32 record over his first six years as head coach.
In that span, TD finished first or second in league with a 87-15 league record, including a 14-0 finish in 2007, as Jessica Wood was named Pitcher of the Year and Player of the Year, the only time that has happened in IMC history.
In the team's first year in the 5A Columbia River Conference in 2011, Garrett skippered The Dalles to a 19-8 overall record and a league crown.
From 2008 to 2012, Garrett led The Dalles to five consecutive semifinal berths by an average of 2.4 runs, including a 3-2 rain-shortened loss to Crater in 2008 and a 1-0 loss at Silverton in 2013.
"I have looked at it, and there is no other team in the 5A ranks that has made it to the semifinals more than two years in a row," Garrett said. "Granted, it comes down to having a good group of girls who develop and work to want more from themselves and each other. We had a great five-year stretch and won a lot of games and did so with good, tough and determined athletes and with kids that brought the best out in each other. It was so thrilling to be a part of that."
Just some of the top names he has coached include Jessica Wood, Katherine Kramer, KT Clark, Kelsey Martinson, Caitlin McCleary, Rylee Parke, Chelan and Ann Marie Guischer.
Recent graduate Sierra Watson spent her entire career up at the varsity level under the watch of Garrett.
She leaves the game feeling better prepared to handle the rigors of life because of her interactions with her trusted coach over the years.
"I loved all four years of softball that I spent with Garrett," Watson said. "From my freshman year, I knew I could trust and follow his direction for the game. I also knew that I could come to him for anything other than softball if I needed to. Through these years, he would do everything in his power for the team and always tried to keep our spirits up."
More than wins and losses, Garrett aimed to give his players a positive experience on the diamond.
He emphasized teamwork, chemistry, camaraderie, fundamentals and having fun.
After a loss in Hood River earlier this season, Garrett drove back to 16th Street Ballpark to pick up some gear and do other tasks, when he was approached by former player, Emmillie Marconi.
She only played one season, in 2007, with Garrett, but he left a lasting impression.
Her kind words touched his heart.
"The rewarding things are the kids coming back, two, three or four years later and them telling me that it was the most fun they have ever had, that was the most memorable experience they ever had and the fact that they wish they could still be a part of the program," Garrett said. "That is when you realize that you did something right. It made me understand that somewhere along the line, I made a positive impact on a player. Those are the kinds of things that you learn from."
Garrett recalled several emotional moments, both happy and sad, but one of the toughest moments came in 2008 when his softball team moved into the semifinals against Crater.
After exiting in the quarterfinals from 2005-2007, The Dalles defeated Sherwood to punch a semifinals ticket.
With rain pelting down on the field and his team down 3-2 in the top of the sixth inning, The Dalles had two runners on base with the middle of the order coming up to the plate.
Instead of a potential rally and a title berth, the umpires called a meeting with both coaches at home plate, and decided to call the game and revert the score back to what it was at the end of the fifth.
Garrett called it the most paralyzing moment of his life.
He had the dubious task of delivering a message to his team that the game was over, playoff run finished and the careers for four seniors, including his youngest daughter Lindy, done.
"They looked at me in disbelief, anger, confusion and sadness. And then there were tears. It broke me down," Garrett said. "There is no doubt in my mind that was the most emotional time of my coaching career. I just didn't want to deliver that message. It was horrible. To rob the girls of a semifinal game was inexplicable. They could have moved the location, did anything to let the girls decide the final score, but they chose to give the game to Crater."
The year before, The Dalles clinched the IMC with a perfect 14-0 record and wound up losing to Glencoe by a 5-1 score in a semifinal matchup at home.
After the game, Garrett huddled in the outfield with his team to say goodbye.

He said his piece and walked back to the dugout.
With parents milling around, waiting for the team to come ushering back in, the players stayed out on the field and told stories, laughed, cried and shared memories.

They did not want their season to end.

"That team was so tight and the chemistry so sound that I hated to see it end," Garrett said. "After 20 minutes, the parents formed a tunnel and called out to the girls to come run through. The girls waved them off. Not one of them left the field. It was one of the most touching moments of my career."
Through his career, Garrett shared in the success with assistant coaches Doug Brock, Duane Witter, Nick Anthony, Erin Barrett, Ryan LeBreton and countless others.
He had a sense of community and togetherness when he coached.
TD athletic director Mike Somnis is now faced with the task of finding a suitable replacement who will maintain that level of family and love felt by everyone involved over the years.
"Steve did a wonderful job over the last 13 years as our head softball coach and had much success during his career," Somnis said. "He has left a lasting legacy among the athletes he has coached and will be missed."
Even though he won't be in the dugout, filling out lineup cards, at practices or sharing jokes with the players, Garrett said he still plans to be around the game.
It has been a major part of his life for more than three decades.
"The memories I share with these kids and these families will never go away. I have been invested in them, both emotionally and physically, from the very beginning," Garrett said. "I will try as much as possible to show up and cheer these girls on from the stands. My hope is that whoever coaches next gets them a championship and success. These players, their families, this program and the community deserves it."
More like this story
Latest stories
Latest video:
Mosier oil train fire
Clips from oil train fire in Mosier, Friday, June 3, 2016. by Mark B. Gibson/The Dalles Chronicle. Enlarge