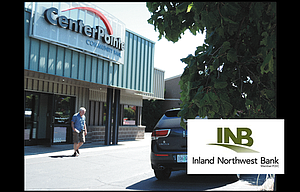 Shareholders of CenterPointe Community Bank will meet July 6 in Hood River to vote on a merger with Inland Northwest Bank based in Spokane, Wash.
The agreement has CenterPointe merging with Inland, a wholly-owned subsidiary of Northwest Bancorporation, Inc. (NBCT).
CenterPointe CEO Mahlon Vigesaa said Tuesday there will be minimal impact to staff.
"We are looking forward to the acquisition benefits this will provide to our customers, community support, and shareholders," Vigesaa said.
The CenterPointe board of directors unanimously adopted the merger agreement March 22 and is recommending shareholders vote for the merger, according to information on the bank website.
The new bank's name will be Inland Northwest Bank. CenterPointe Community Bank is an Oregon state-chartered bank with offices in Hood River, Bingen, The Dalles and Goldendale and in Lake Oswego.
Northwest Bancorporation, Inc. is a Washington corporation and a bank holding company. It operates Inland Northwest Bank, a Washington state-chartered bank headquartered in Spokane. Inland operates 11 full-service banking offices in Eastern Washington, one full-service branch in Central Washington and three full-service banking offices in Kootenai County, Idaho.
Applications for prior approval of the merger by the FDIC were filed in April; the banks are hoping to complete the merger in the third quarter of 2017.
Increased legislative and regulatory scrutiny of the financial services industry in recent years, as well as ongoing consolidation in the financial services industry, have affected financial institutions generally and CenterPointe in particular, bank officials said in a statement on the company website.
The statement added, "As part of its ongoing consideration and evaluation of CenterPointe's long-term prospects and strategies, CenterPointe's board of directors and management have been carefully considering all options to grow CenterPointe in an effort to remain competitive."
As part of this ongoing evaluation, the CenterPointe board of directors considered the merits of selling the institution, merging with another institution of similar size and complementary business, or remaining independent, as well as the challenges of remaining competitive in the current economic, regulatory and interest rate climate, and the potentially increased operating costs associated with regulatory compliance and competitive forces.

Earlier this year, CenterPointe retained Wedbush Securities, Inc., an investment banking firm recognized for its work with financial institutions, to act as its financial advisor.
Wedbush delivered its opinion March 22 to the CenterPointe board that it was in the best interest of the bank's shareholders to merge with Inland, according to a company statement.
More like this story
Latest stories
Latest video:
Mosier oil train fire
Clips from oil train fire in Mosier, Friday, June 3, 2016. by Mark B. Gibson/The Dalles Chronicle. Enlarge