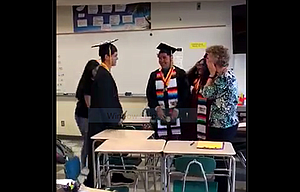 The Dalles High School teacher Mary Jo Commerford had to miss graduation because she flew to Florida and read AP exams for a solid week.
But she got a big surprise on the last day of school, when a group of students came to her classroom and re-created graduation for her, right down to the pomp and circumstance music and the handing out of diplomas.
They thought to capture the mini-graduation on video, and the clip has gone viral, with 19,000 views so far after it got shared by one of the student's parents to a Facebook page called "Great People, Great Thoughts."
The video shows an overwhelmed Commerford in tears as she watches the graduation and hugs each student in turn.
Graduate Jaimie Esiquio recounted how it came together. She was talking to friend Rosario Rucoba, and both were sad that Commerford would be away for graduation, "because we love Mrs. Commerford and she's done so much for us."
Rucoba hit on the idea of recreating graduation. Esiquio and Rucoba went on the senior class trip to Disneyland, and wouldn't be back until Tuesday, meaning their only chance would be on Wednesday, the last day of school.
They started a group chat and added all the students who had Commerford in class. In the end, six students participated: Esiquio, Rucoba, Oscar Ortiz, Malek Bzezi, Sandra Leon and Edgar Contreras.
Rucoba said when students found out Commerford would miss graduation "we were really sad about it. She's one of my favorite teachers, she's really influential not only for me, but past and present students. I think she's a really big blessing to the high school and our community because she really focuses on teaching individual students and she makes sure we have a plan, especially after high school."
Of her tearful reaction, Rucoba said, "I think that goes to show how attached she was to my graduating class. She's an amazing teacher. Words cannot explain how many times she has helped me throughout my high school career, how many times she has helped other classmates of mine, so I'm really glad I got the idea to have that mini graduation, and the way it came out."
All six of the the students had had Commerford as a teacher for two years, for a total of four AP classes, including AP US history and English language last year and AP European history and AP literature this year, Esiquio said.
A junior filmed the mini-graduation and junior Aileen Luna-Lopez handed out diplomas. "They were our legit diplomas," Esiquio said.
They gathered outside Commerford's class, donned their cap and gowns, and then strode in as the music began.
It was hectic getting to that point, though, because Rucoba, whose idea it was, was running late, and then the school actually required the graduates to have guests passes to get in the building, now that they were no longer students, and they didn't have any for them at that time, so they sorta snuck in anyway, Esiquio said.
As they prepared outside her classroom, Esiquio said, "We were like, 'Oh my gosh, we're going to get in trouble.'"
They were surprised that Commerford began to cry. "We were like, 'Wow, it means that much to her,'" Esiquio said. "It felt really nice. It felt good to do something for her just like she has done the last year for us."
Commerford spoke to the school board the next day, recounting the special moment. She was once a missionary in South America and has a special place in her heart for Latinos. She noted that each of the six students was heading off to college, and most were Latino. She hoped they would come back to the community and the town would begin to see a demographic of college-educated Latinos.
Esiquio, who will be studying psychology at Oregon State University in the fall, was surprised the video went viral. "I didn't know it was gonna blow up that big."
Rucoba tagged people in a Facebook post, saying, "Guys, look! We're famous!"
Esiquio said she was "kind of tearing up" at the emotion of the event – which she described as graduation without "all the long speeches."
Bzezi said he participated in the mock graduation because "she's just a really good teacher and she really likes her students. She was really sad that she couldn't make it to graduation and we thought we would have a mini graduation for her."
Bzezi is going to Portland State University and will probably study computer science.
Bzezi was expecting Commerford to have a surprised reaction. When she became so emotional, "it just shows how much she appreciates what we did and how she actually cares for us."
Sarah Bzezi, Malek's stepmom, said via a Facebook message that the six students had volunteered their time throughout high school helping others.
"Less than a week after graduation they showed exactly how selfless they are when they surprised their teacher," she wrote. "I think it shows how important Mrs. Commerford is to each of these students. They are all amazing kids who deserve to be recognized for their kind hearts. These children are our future and we should be proud of them."
More like this story
Latest stories
Latest video:
Mosier oil train fire
Clips from oil train fire in Mosier, Friday, June 3, 2016. by Mark B. Gibson/The Dalles Chronicle. Enlarge