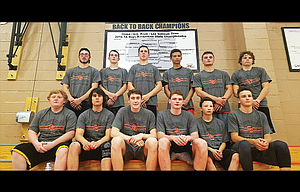 MORO – The more things change, the more they remain the same.
Playing without graduated seniors Kyle Fields, Max Martin, Maverick Winslow and Isaiah Coles, the two-time defending state champion Sherman Huskies kicked off their offseason slate in style with eight consecutive wins, including a finals romp over Jordan Valley, to score first place at the Sherman Invitational ending Sunday in Moro.
This triumph marked the third consecutive year that the Huskies have scored a tournament title on their home court.
"We are super proud that we could go out and get the job done once again," said all-state point guard Jacob Justesen. "It's a huge loss losing guys like Max, Isaiah, Kyle and Maverick, but everybody seems to be stepping up and playing much better."
After sweeping through pool play with big victories, Sherman defeated South Wasco County in its opener, and then toppled Perrydale in a quarterfinals matchup to vault into the semifinals against Nixyaawii.
The Huskies did not stop there, however, pulling away for a win to advance to the championship rounds against Jordan Valley, in what was a nip-and-tuck battle until the final two minutes, when the Huskies pulled away.
Leading the way for the Huskies were the returning group of Makoa Whitaker, Luke Martin, Treve Martin, Keenan Coles and Reese Blake.
"Guys like Reese, Keenan and Luke have stepped up and played amazing here of late and they just continue to work hard at filling those roles," Justesen said.
With those four spots open for competition, the Husky coaching staff has a young talented core of Brian Macnab, Owen Christiansen, Caleb Fritts, Nick Riggs, Wade Fields and Tyler Jones to choose from.
Sherman will have some added size and speed with those parts in place, however, with incoming seniors Treve Martin, Whitaker, Blake and Justesen serving as the most experienced veteran strongholds.
"Treve and I are just trying to lead the team the best we can," Justesen said. "We know how to be successful and we are making sure everybody else knows too. The key to us being successful like the past two years will be us playing defense. That's what it always comes down to and we know that, so we make sure we are always intense and ready to shut people down on defense."
One team that has gone through a complete roster makeover is the South Wasco County Redsides, as Travis Wilson, Tanner Davis and Michael Cuevas are the three main weapons for head coach Jim Hull.
The long-time coach has the task of mixing and matching his personnel in an effort to replace eight graduated seniors, especially his big post players, Ty Herlocker, Skyler Anderson, Haven Stephenson, Wilson Wells and Dawson Herlocker, along with a speedy backcourt of Nick Ward, Keith Kegel and Andrew Lindley.
In pool play, the Redsides had an 0-4 record and posted an 0-2 final standing in two bracket games, losses to Sherman and Yoncalla.
Aside from Cuevas and Wilson, both seniors, Hull has a young squad, with the likes of sophomores Davis and Jesse Scoville, and the incoming freshmen duo of Garrett Olson and Ben Birman.
Hull still saw some positive glimpses from his team, so there is something to build on as the summer progresses.
"As the tournament went on, we got better, especially the younger players with Garrett as my only taller player at 6-foot-2 inches and Kabe Frederick, a 6-3 junior. All the other players are 5-9 or shorter. We shot the ball better and we were able to have a number of close games using our inside game."
Much like South Wasco County, the Dufur Rangers, under head coach Ron Townsend, have five returning juniors and two seniors.
Curtis Crawford and Jackie Culps are the seniors in the mix to replace graduated seniors Travis Lucas, Ethan Wetherbee, Kolbe Bales, Bailey Keever and Connor Uhalde.
"We just use the summer to try and improve individual skills, especially for the young players," Townsend said. "Everyone who shows up plays equal time."

There is a promising crop of Cooper Bales, Trey Darden, Caleb Olson and Jake Peters as the incoming freshmen standouts, and they have good strengths to play several positions on the hardwood.
"This weekend, we had mostly young players who improved as the weekend progressed," Townsend added. "We do not worry about score, as if it were up to me, you would not keep score in the summer. I just want them to have fun and try to learn with no pressure."
More like this story
Latest stories
Latest video:
Mosier oil train fire
Clips from oil train fire in Mosier, Friday, June 3, 2016. by Mark B. Gibson/The Dalles Chronicle. Enlarge