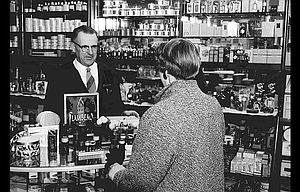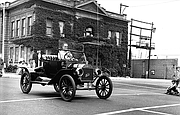 20 years ago – 1997
Where there's smoke there's fire, except in this case it's purposely set by Brian Bishop of the Barlow Ranger District. Bishop was one of several Forest Service crew members from Dufur and the Bear Springs Work Station on a controlled understory burn near Wamic last week. The burn was part of a continuing effort in the Barlow District to remove ground-level vegetation that contributes to destructive forest fires.
Wasco County's transitional lands steering committee has narrowed its options down to three scenarios for how development of a 23,000-acre area between Mosier and The Dalles could occur. At a previous meeting, the group had discussed what might constitute a "working" scenario.
Mountain climbers who intend to climb Mt. Hood this summer are being urged to take extra safety measures. "We've already witnessed four search and rescue missions on Mt. Hood this season," said Mt. Hood Forest Supervisor Roberta Moltzen. About 50 to 100 climbers a day are climbing Mt. Hood, according to Gail Aschenbrenner of the Zig Zag Mt. Hood National Forest station. Aschenbrenner said there is a lot of snow on Mt. Hood this season, and with it are avalanche possibilities.
40 years ago – 1977
A proposal to construct a pumped storage reservoir in northeastern Sherman County and provide irrigation water for that area "before it is all gone" is in the very preliminary stages of planning, Gordon Hildebrand, chairman of Northeast Sherman Irrigation, Inc. said Friday. The reservoir is being proposed in Bigelow Canyon, and if it becomes a reality, it would create a 780-acre water surface.
EDWARDS AFB, Calif. (UPI) – The space shuttle-orbiter bolted atop a modified 747 flew around a racetrack-like course over the Mojave Desert today for about 57 minutes in a successful first test of the vehicle with two astronauts aboard. The flight, which tested the shuttle's aerodynamics characteristics, navigation and instruments, was delayed from its scheduled start Friday morning by a series of technical problems, including failure of two of the jumbo jet's five computers.
LOS ANGELES (UPI) – The "Trekkies" have won. After years of insistence by its devoted fans, the television series "Star Trek" is returning to production. The decision was announced Friday as hudnreds of "trekkies," as the fans call themselves, gathered here in one of their unusual and frequent conventions, one sign of the devotion the show inspired.
60 years ago – 1957
Culinary workers and bar tenders union members in The Dalles have voted to strike at local restaurants midnight June 26 unless a new contract is negotiated before the date. Members of the restaurant association here met last night to consider the union request for a 10 per cent across-the-board salary increase, but restaurant association Vice President John Helzer said the problem has been turned over to Al Rossman of Portland, of the Association Restaurant Owners of Oregon, who is to meet with union officials in Portland today or tomorrow. Helzzer declined to comment on restaurant owners' discussions last night.
The basic price-support rate for 1957-crop wheat grown in Wasco county is $2.09 per bushel for No. 1 grade, according to Leslie Fredrickson, office manager of the County Agricultural Stabilization and Conservation Committee. He points out that the county rate will be further adjusted up or down for grade and quality when support prices for the individual producer's crop are calculated.
WASHINGTON (UP) – Rep. Kenneth B. Keating (R-N.Y.) said today he sees "no chance" that Congress will grant professional sports full immunity from anti-trust laws. He favors some, but not total, exemption of organized sports from anti-trust regulation.
80 years ago – 1937
Cherry growers were offered no cheer today by weather bureau reports which forecasts occasional rain tonight and showers Saturday. Damage to the local cherry crop increased as more fruit was split by rains which already have ruined as high as 50 per cent of the crop in some orchards.
Local painters organized themselves under the union standard last night at a meeting in Tripps hall attended by Portland labor chiefs. Organizers stated there are 32 painters now working in the city, and that 23 of them joined the new union last night. Confidence was expressed that 100 per cent organization would be reached.
The whole of Wasco county was designated a weed control district by the county court yesterday, as the result of requests by farm groups which insist that noxious weeds are spreading so rapidly in the county that control methods must be employed if serious agricultural loss is to be prevented.
PORTLAND, June 18. (UP) – A. F. Clemons was in the hospital today seriously wounded, shot in the hip by Sam Christop, restaurant proprietor, late Thursday night. Christop reported to police that he heard someone trying to break into his café. Rushing to a second story window, he fired a shot at the figure of a man he could see up the street. The man turned out to be Clemons, who ran five blocks to the home of a friend, where police found him lying on the floor. Clemons told police he was walking past the café when a man rushed out of the doorway. The next thing he knew, he said, he was struck by a bullet from Christop's pistol. Police had filed no charges today.
100 years ago – 1917
Lynn Laughlin was arrested Saturday by Deputy Sheriff Pearl Jarvis on a complaint which was made by N. Powers, who accused Laughlin of child stealing. Laughlin was released this morning on $500 bonds furnished by his father, B. F. Laughlin, and will have his preliminary hearing Friday. According to the complaint made, Laughlin took Ruth Powers, a girl under 16 years of age, on a camping trip.
The two left on horseback Wednesday afternoon, going up Mill Creek. The case was not reported to the authorities until late Thursday night, after the parents of the girl had made an effort to locate her. It was learned that the two were in the upper Mill Creek district and Deputy Sheriff Jarvis went there and placed Laughlin under arrest.
Because they furnished reasonable excuses, Louis Hanna and Oliver Barton, two young men who are employed as sheep herders, were allowed to register for war purposes at the sheriff's office today and were not arrested for being slackers.
WASHINGTON, June 18. – Russia, as a devotee of democracy and individual liberty, must continue to fight German autocracy, the United States declared in a note which was sent to the Russian government before the arrival of the United States commission, and which was made public today.
More like this story
Latest stories
Latest video:
Mosier oil train fire
Clips from oil train fire in Mosier, Friday, June 3, 2016. by Mark B. Gibson/The Dalles Chronicle. Enlarge