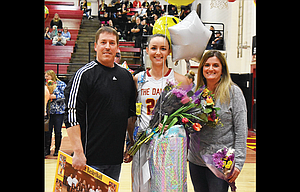 Brooke McCall had a choice between playing collegiate soccer or basketball.
It was a tough decision, but when it came down to it, hoops has always been one of her first loves.
McCall has signed on to play for Division III George Fox University to play guard for a Bruins program that posted 24 consecutive winning seasons, won the 2009 Div. II championship and has gone 180-27 under 2011-2012 Div. III National Coach of the Year Michael Meek.
Through the recruiting process, St. Bonaventure, Pacific Lutheran, Whitworth, Willamette, George Fox and a handful of junior colleges were vying for McCall's services.
One look at the winning tradition set by Meek and the level of interest he showed in McCall made it an easy choice.
"I am very excited because the basketball program I am going to is known for being very good," McCall said. "Coach Meek is a very good coach and he cares for his players. You could tell that from the way he talks to you. He just wants the best for you. I am looking forward to working with him to develop my skills further. I think I can get so much better from here."
McCall joins a Bruin squad that finished 21-6 last season and lost in the first round of the Div. III playoffs.
The team allowed 64.0 points a contest on defense, and offensively, averaged 78.0 points a game on 43. 1 shooting from the floor, 33.4 from 3-point territory, to go with 41 rebounds and 15.5 assists a game in 27 tilts.
Meek lost two seniors off this year's team, a wing and a point guard, and McCall was recruited to play the guard role.
Brooke's father, Jeff, likes the playing style and philosophy fit, which should enhance his daughter's plentiful skill set.
"She is a team-first player, cares for her teammates and is a humble athlete, who would rather her team get all the headlines than herself," Jeff said. "George Fox is also getting a fierce competitor and someone who has the drive to do great things. She is also a person that is coachable and is willing to do whatever the coach asks of her."
Through her high school career, McCall has earned all-league and all-state awards, and was a 2017 TD Riverhawk Hall of Fame winner.
In her last season as a basketball player, McCall surpassed double digits in the scoring column seven times, finishing with 12 points and 6.4 rebounds a contest in league tilts for a first-team award.
Those numbers were surges from the 2015-2016 campaign, where she scored 10.4 points, and added 5.5 rebounds, 2.1 assists, two steals and 1.2 blocks a game.
While playing travel ball, Brooke played on a team called the Oregon Extreme in 2015.
She played up a level for the Northwest Stars this past summer, where she had a chance to play against teams from all over the United States, Canada and Australia. These tournaments in Chicago, Las Vegas, Irvine, and San Diego, Salem and Portland are designed to get the players looks from colleges for their future.
"When I played with travel teams, it has really helped me build on my skills a lot better," Brooke said. "I can do a lot of things well, so now I go into college with a chance to get even better and help this team keep their success going. At this level, there are going to be a lot of great players and I feel playing against them will get me to a higher point in my game. It will challenge me to want more from myself."
McCall picked up some academic scholarships to help offset tuition costs and her main course of study is in the field of nursing with hopes of being an emergency room nurse.
Much like basketball and life, the nursing field is fast-paced and exciting. She always wants to make a difference.
"I like to help people. That is my main thing," Brooke said. "I like jobs that require a lot of quick thinking and a lot of action. In a way, it is a lot like basketball. You have to be ready for pretty much anything and everything that comes your way."
While still far from a finished product, Brooke McCall is confident in her shooting, but admits that she will continue to work other parts of her game, including defense and dribbling, especially from the guard position.
Playing various roles under coach Dan Telles and Craig Compton for the past four years has helped her develop a multitude of skills, from her inside game to her outside game and passing prowess.
"A lot of times I ended up bringing the ball up the court off rebounds, so it is not going to be that much different, but coach Meek plays a lot faster paced game, so it'll take a little bit get adjusted to that, but I think I can do well," Brooke said. "Coach said that he expects me to come in ready to go and make an impact in the program right away. I just need to come in ready and willing to work hard, so that I can establish myself early on."
On one hand, it is difficult for Jeff and his wife, Cheri, to deal with the notion of their youngest child moving on to college.
Brooke said that she forever indebted to them and is focused on continuing to make them proud.
"They have paved the way and they have paid the way. Every summer, they get me into basketball leagues and camps. It is a lot of money, but they have never questioned anything because they want to go the extra steps to get me to be a better basketball player," Brook said. "My mom has never missed a game when I am on my travel teams or in high school. My dad is always the first to coach me up after a game and giving advice on pointers on what I did wrong and what I did right. It means a lot knowing they will always be there for me."
At first glance, leaving home is a little nerve-wracking, but Brooke said there will be a few kids from The Dalles attending the college located in Newberg, so acclimating herself to the new surroundings won't be overwhelming.
In her few visits, though, she has never felt like an outsider, more like a welcomed visitor, which makes it a major selling point in terms of her comfort level.
"I have been down there and the community is very inviting and has opened their arms for me and anybody who wants to attend school," Brooke said. "It makes a huge difference when you have that, especially being someone new. I look forward to making new friends and starting something new for my future life. I am also a little nervous because I have never been away from home, but I am very excited for the opportunity I am getting."
More like this story
Latest stories
Latest video:
Mosier oil train fire
Clips from oil train fire in Mosier, Friday, June 3, 2016. by Mark B. Gibson/The Dalles Chronicle. Enlarge