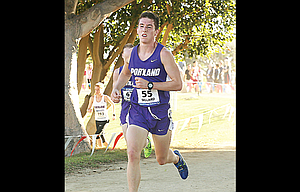 Through the course of running history, the name Alex Dillard is synonymous with success, grace, diligence and a drive to win.
At Dufur, the 2012 graduate owns school records in five track and field events, including the 800, 1,500, 1,600, 3,000 and 3,200 meters, and he has two cross country records in the 4,387-meter race and the three-mile run, while at The Dalles.
"Alex turned out to be probably the best distance runner I've coached in 43 years," said former coach Steve Thompson, who coached Dillard's parents at Wahtonka High School. "He was a very hard-working young man and he was very focused in training, improving and listening to what his coaches were teaching him. He was a great example, not only athletically, but also academically, for our other runners. He had a lot of leadership skills as a young man and was always a pleasure to coach."
The recent University of Portland graduate capped his collegiate career at the NCAA West Regionals in Austin Texas. in the 5,000 meters and 10,000 meters, placing 16th in the 10,000 with a time of 30 minutes and 19.65 seconds May 25.
On Saturday, May 27, he placed 13th in his heat and 24th overall in the 5,000, where he turned in a 14:45.78.
In college, Dillard set a 1,500-meter personal record of 3:51.62, a 4:25.58 mark in the indoor mile and added an 8:18.58 for an indoor 3,000 personal record and an 8:34.49 in the outdoor 3,000-meter running event.
In the outdoor 5,000, he had a top time of 14:01.10, and had a 10k outdoor time of 29:05.98 and added a 30:31.50 10k cross country personal record.
At the 59th annual Mount Sac Relays held at El Camino College in Torrence, Calif. in April of this year, Dillard chalked up a final time of 29:19.42 seconds for 16th place in the Elite Class Division amongst a field of 64 runners in the 10,000-meter race.
"Overall, I was fairly successful at the college level, especially against the odds and competition I faced," Dillard said. "I was on a team that got third in the nation and ended up at least top-30 in the nation in the 10,000 meters. However, I never got to run nationals or be one of the athletes trying to be top-10 in the nation."
Dillard owns track records at Dufur in the 800 (2:02.72), 1,500 (4:04.32), 1,600 (4:55.37), 3,000 (8:43.19) and 3,200 (10:56.15).
While running under Thompson and assistant coach Tom Conklin, Dillard had the 4,387-meter record (14:39.0), Three Miles (15:06.0) and is just a shade off the record in second place in the 5,000-meters (15:36.0).
"I can tell you that Alex could get hyper-focused on his challenge during practice and races," Conklin said. "Most high school boys can run maybe one or two sub-five-minute miles with a break in-between, if they train for that. Alex could run multiple sub-five-minute miles during practice. He had a skill to run down an opponent in the last half mile, like I've not seen in runners at the high school level."

Dillard said he learned a valuable lesson about himself, expectations and competing against some of the best runners in the nation, with the main differences being either talent, luck, resources or a combination of all of the above.

"In the end, there are people who can become greats and others can't. That's what happens when you are competing at a level, which is the top 0.1 percent of the population," Dillard said. "However, the bright side is learning not to compete against others, but compete with yourself, become the better version of yourself, and maybe just maybe, you can grow to be something greater than what your initial potential allowed. Create your own success. Don't let other dictate what success is to you."
Dillard was named an All-Academic honorable mention in 2014, 2015 and 2016, and he was an All-West Coast Conference honorable mention for his work during the 2015 campaign.
He still plans on running, because it is an activity he has enjoyed for many years.
Dillard graduated with a degree in science and a math minor in 2016, and was recently working on a Masters of Art in teaching this past year.
He has sights on finding a career in chemistry.
Thompson cherishes every moment he share d with Dillard.
"Alex is the reason I coached for over 40 years," Thompson added. "I think he's probably the best distance runner that's come out of the Columbia River Gorge area. Some of his records will never be broken. He was a joy to work with and I wish him nothing but the very best in life."
Latest stories
Latest video:
Mosier oil train fire
Clips from oil train fire in Mosier, Friday, June 3, 2016. by Mark B. Gibson/The Dalles Chronicle. Enlarge