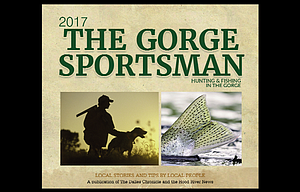 Hunters and anglers are invited to submit best catch and trophy photos for the Brag Board in the 2017 outdoor sports publication that is coming in July, as well as stories.
This year the Chronicle has teamed with up with the Hood River News to widen the distribution of The Gorge Sportsman, formerly known in The Dalles as Hooks & Horns.
"We got a lot of great reviews on our first magazine last year so we decided to expand the market and partner with our sister paper to get even more tips and stories out there," said Tonya Flory, ad director for the Chronicle.
"This is the only local hunting guide in the Gorge and I like the idea that we have local experts in our community submitting stories," said Chelsea Marr, publisher for the Hood River News.
Families are invited to contribute snapshots to Flory in The Dalles at tflory@thedalleschronicle.com or Marr at cmarr@hoodrivernews.com.
People with a passion for hunting and/or fishing are also welcomed to submit a column about their outdoor adventures, 800 words or less. A column must be accompanied by a photo of the author and few lines of bio information, as well as contact information.
Marr can be reached at 541-386-1234, ext. 100, for further details or Flory at 541-296-2141, ext. 107.
More like this story
Latest stories
Latest video:
Mosier oil train fire
Clips from oil train fire in Mosier, Friday, June 3, 2016. by Mark B. Gibson/The Dalles Chronicle. Enlarge