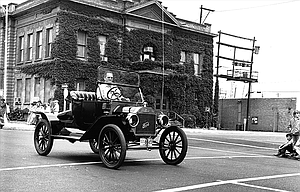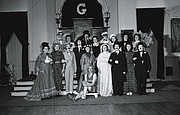 20 years ago – 1997
Local reports of cougar sightings are on the rise, but Mid-Columbia counties will not get an expanded hunting season like other parts of the state. On Saturday, the Oregon Fish and Wildlife Commission expanded the cougar-hunting season in areas of the south coast, central Lane County, central Douglas County and the upper Rogue River. "Sightings are going up," said Keith Kohl, assistant district wildlife biologist for The Dalles office. Kohl said that in 1996, there were 3 damage complaints and sightings in the three management units. So far in 1997, there are 22 reports in the first six months of the year. There are about 3,000 cougars in Oregon, compared with 200 in the late 1960s.
New analysis of juvenile crime in Wasco County is prompting local officials to take a second look at the way they work with the small group of youths causing most of the trouble. Some 15 percent of young offenders commit 81 percent of the crimes in Wasco County, said Linda Wagner, a research and development coordinator for the Oregon Commission on Children and Families.
Budget cuts forced by Measure 5 soon will mean fewer library hours, and fewer books and periodicals to choose from.
WASHINGTON (AP) – Switzerland officials are acknowledging that thousands of dormant accounts opened by Swiss citizens during the Nazi era may actually belong to Holocaust victims. "We're talking about 20,000 possible accounts rather than the 774 that they previously had admitted to," Elan Steinberg, one of those seeking Jewish assets lost during World War II, said Tuesday night.
WASHINGTON (AP) – The National Transportation Safety Board wants the states to pass car safety laws that would require stronger seat belts and make children age 12 and under ride in the back seat. "If parents in this country would put their children in the back seat, they are three times less likely to be killed in an accident," NTSB Chairman Jim Hall said Tuesday.
40 years ago – 1977
Some local officials meeting here Friday strongly opposed using Columbia Park Hospital for any type of corrections center. One of the ideas advanced by the Ways and Means Committee was to use the facility for what it terms a first offender program. Aides to Gov. Bob Straub and legislative sources described these offenders as 18- and 19-year-olds held for the commission of violent crimes.
GLIMMEN, The Netherlands (UPI) – Dutch marines backed by low-flying jets stormed a hijacked train and a nearby school at dawn today, freeing 53 hostages held by Moluccan terrorists for 19 days. Six gunmen and two hostages died. "The assault lasted only a few minutes, but it seemed like eternity," said 20-year-old freed hostage Daan Peter Pot. The two hostages died accidentally in a crossfire, Pot said. An army spokesman said 120 marines backed by dozens of armored vehicles and at least six F104 Starfighter jets launched simultaneous assaults on the four-car train and the Bovensmilde elementary school, 15 miles apart, in a deafening roar of gunfire that lasted about 10 minutes.
60 years ago – 1957
Steps involved in wood residue utilization studies being conducted in nine areas of Oregon were outlined at yesterday's Chamber of Commerce board meeting by B. M. Keith as a member of the forestry committee.
A potluck picnic will be held tomorrow for City Manager Gifford Miller. Miller leaves this weekend for Monrovia, Calif., where he will assume the city managership.
Incumbent Don Bailey is apparently the only candidate for the open spot on the District 12 school board.
A thief with a fondness for clothes is wanted by city police. It was reported today that the Roy Johnson home near the Cherry Park Grange hall was "prowled" some time Sunday. Taken were a small black suitcase, three dozen men's handkerchiefs, five pairs of nylon stretchable socks and eight pieces of underwear.
80 years ago – 1937
More than 200 delegates and members of the Order of Rainbow for Girls were registered this morning at the Masonic temple. Twenty-two assemblies were represented at the 11th annual state assembly, to which The Dalles is host Friday and Saturday.
Mrs. Francis V. Galloway, chairman of the board for school district No. 12, will not be a candidate for reelection, she announced today. She gave no reason for retirement.
PORTLAND, June 11. (UP) – A bolt of lightning struck and killed Harry W. Allen, 42, line foreman for the Portland Electric power company, a moment after he had thrown a switch replacing fuses in a sub-station at Linnemann Junction Thursday afternoon. The charge hurled Allen against a high wire netting fence surrounding the station and the current poured through his body for ten minutes before workmen were able to remove his body. H. Sundberg, lineman, was knocked to the ground by the bolt, but was not seriously injured.
100 years ago – 1917
The local officers are on the watch for automobile and motorcycle "speeders." Several persons have been deputized to report all law-breakers. A war on traffic law-breakers has been started which will eventually land a number of automobilists in the police court unless the city laws are recognized, according to an announcement which was made today by Chief Kurtz.
The question: -- "How can I best pay the debt I owe to my country for liberty and democracy?" has been answered by Wasco county men, who cannot join the ranks of fighters, in a most encouraging way – by placing their dollars on foreign soil. Every city and every district in the United States is now in the midst of campaign to finance the Red Cross so that the boys in the trenches may be given the care to which they are entitled. While the actual campaign for these funds does not begin until a week from today, nevertheless voluntary contributions are pouring in.
Friday afternoon a contract was awarded Hedges & Huls for the building of a concrete waterway under the Ginn, Coleman & company store and the Moro garage and across First street to the Tumalum Lumber company property. The new waterway will be large enough to hold all the spring flood waters that generally do so much damage to the streets and property. The contract price was $3300, of which $1000 will be paid by the owners of the buildings under which the waterway will be built. Four bids were received by the city, all within $12 of the highest, including local, Portland and The Dalles contractors.
To arrange details for the holding of the annual school election, June 18, a special meeting of The Dalles board of education was held Saturday night.
More like this story
Latest stories
Latest video:
Mosier oil train fire
Clips from oil train fire in Mosier, Friday, June 3, 2016. by Mark B. Gibson/The Dalles Chronicle. Enlarge