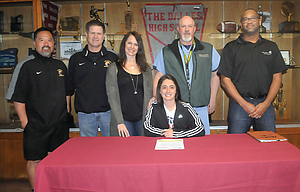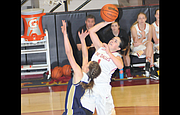 Losing three sophomore guards, Chemeketa Community College head women's basketball coach Kevin McCarrell was on the recruiting trail across the region looking for some reinforcements.
He appears to have found one of his answers in The Dalles' first-team all-league point guard, Kailin Hoylman.
The senior averaged 9.9 points, six assists and 3.8 steals in nine league matchups and takes over a guard position that amassed 4.4 points, .99 assists and .57 steals a game for a team that went 7-20 this past winter in the Northwest Athletic Conference.
Although he had observed only a few Riverhawk games this winter, McCarrell liked the playmaking skills and tenacity Hoylman exhibited.
"Kailin is quick, is a great distributor and she definitely plays with a little bit of an edge, which I like for my guards," McCarrell said. "I think she will fit right in to what we are trying to do here, both offensively and defensively. You need guards who can dictate the flow, take control and be a leader on the floor. Kailin will do just that and help this team."
Hoylman said that she takes pride in making the right passes to the right teammates for easy scoring opportunities, but heads to fall training camp with a gameplan of further refining her ballhandling and shooting technique.
Chemeketa guards converted on 137 of 429 shots (32 percent), 66 of 225 from 3-point territory (29 percent) and committed 134 turnovers in 27 games.
Through camps, clinics, gym time and game action, Hoylman has put in the tireless work necessary to get herself to the next level.
"Coach (Dan) Telles, Coach (Craig) Compton and Brian Stevens have worked with me on their own time, helping me to improve my skills," Hoylman said. "I want to thank them for all their encouragement and time they have put in to help me get to where I am today."
In her high school career, Hoylman was part of a Riverhawk program that amassed a 53-42 record with four consecutive state play-in berths.
The Dalles averaged 46.3 points a game, and always had one of the better 5A defenses at 43.5 points a contest in that same four-year span.
With an emphasis on a fast-paced offense and some pressure defensive packages, McCarrell's teams are scoring 61.8 points and allowing 69.1 points a game with a 26-57 record over his first three years as coach.
Compton is optimistic that Hoylman can fare well at the college level, given any style of play.
"I think Kailin will adapt well where she goes," Compton said. "She has a passion and a drive to continue to get better and she loves the game. I look forward to seeing her continue to develop as a point guard and a leader."
Hoylman, who ended high school with a 3.67 grade point average, received a scholarship and plans to major in chemistry or biology with career plans of becoming a forensic scientist.
While athletics has been a staple of her life, Hoylman is headed to this next phase in her life with her education priorities in order, especially with workouts, practices, weight room time and studying proving to be a fickle balance.
"Academics have always come before sports for me because they are very important not only in high school, but in the future as well," Hoylman said. "You need to always exceed in academics, because based on how well you do in school, it sets you up for what you do later in life."
Since she was eight years old, Hoylman has been involved with travel teams, whether it is softball, basketball or soccer.
With her experience of playing elite hoops on the Oregon Xtreme and the Northwest Stars, Hoylman has had to play with different teammates and work with different coaches.
"I think playing on travel teams has prepared her well for college and being successful playing with a new team," said Lynn Hoylman, Kailin's mother. "While she has enjoyed all her sports, her true love is for basketball. We have been blessed to have so many wonderful coaches invest their time and efforts in Kailin. It is because of their support and her hard work that she has been given this wonderful opportunity."
The notion of leaving home gives Kailin feelings of excitement and some nerves, but she is using this next chapter as a stepping stone in life, so it has given her a positive glimpse of what the future holds.
One motivating factor is to represent The Dalles at the highest possible level and to serve as an influential role model for young girls coming up through athletics.
She has younger sisters, Kilee and Laci, that will keep tabs on her progression as well.
"It is a huge responsibility to be the oldest of three kids, because you want your siblings to look up to you," Kailin said. "My goal is to show them that you can accomplish anything that you set your mind too."
Kailin fondly remembers the friendships she made, the long road trips with mom and dad, the feelings of happiness with the wins and the learning lessons taken away from the losses.
She takes pride in knowing that her parents, Roger and Lynn, have been her emotional support and biggest fans from the humble beginnings.
"My parents have done so much for me over the past years that no words can explain how grateful I am to have them as my parents," Kailin said. "They have always been there to support me through anything I do, and only want the best for me as I continue my career in basketball."
More like this story
Latest stories
Latest video:
Mosier oil train fire
Clips from oil train fire in Mosier, Friday, June 3, 2016. by Mark B. Gibson/The Dalles Chronicle. Enlarge