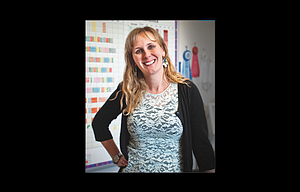 Chenowith Elementary School Principal Anne Shull was named to a statewide education advisory council for a two-year term beginning in the fall.
She sought appointment to the Oregon Department of Education's Deputy Superintendent's Advisory Council for the 2017-19 biennium, which identified her as an "outstanding candidate" for the role. The group will meet at least eight times, with the first meeting in September.
A press release from the Oregon Department of Education stated, "Anne's educational knowledge and experiential background as a teacher and her leadership as an administrator make her a great appointment to the Advisory Council. The council will meet at least eight times over the course of the two years and offer guidance on student achievement, professional learning, teacher evaluations, ESSA, educational practice and policy."
Shull said in an email, "My goal is to really bring the teacher and parent voice to the conversation to influence what is best for kids." She is the first member of North Wasco County School District 21 to be named to the council.
"The group works to create systems and policy that guide how we 'do' education in Oregon," she said. "My goal is to make sure that we are coming from the student level and working from there. Help determine what is best practice for students and then, if we expect teachers to implement a strategy, how do we ensure that they have received the training and support to be successful?"
She has three kids who attend school in Sherman County. She said, "As a parent, I want my child's teacher to be as effective and well trained on best practices as possible, because that is what is in my child's best interest. As a principal, I know that my staff are more than willing to implement strategies that we know are effective and in the best interest of the students, but as a leader, I am responsible for making sure that my staff are provided with opportunities to learn those strategies and refine them."
She said, "Achieving the balance between meeting the needs of staff and refining staff expectations so that they can best meet the needs and expectations of the students is really what this work is going to be about. I am excited for the opportunity and eager to bring the voice of North Wasco to the table."
According to a press release from the Oregon Department of Education, "the Deputy Superintendent's Advisory Council (DSAC) was formed in an effort to regularly engage educational leaders throughout the state as thought partners and in turn, better serve schools and districts in Oregon."
The goal, the release stated, is to "elevate the educator voice in federal, state, and local education policy. Our larger goal is to improve the graduation rate in Oregon. Educators involved in this council will identify best practices, provide input, offer feedback, and make recommendations to the Deputy Superintendent of Public Instruction."

More like this story
Latest stories
Latest video:
Mosier oil train fire
Clips from oil train fire in Mosier, Friday, June 3, 2016. by Mark B. Gibson/The Dalles Chronicle. Enlarge